Experience 'key' to Lotus progress
| | |
| --- | --- |
| By Jonathan Noble and Edd Straw | Saturday, April 3rd 2010, 05:43 GMT |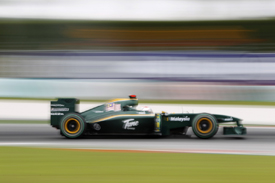 Lotus technical chief Mike Gascoyne believes that signing up experienced people to help put his team together has been key to the outfit making such good progress this season.
With Lotus enjoying a positive first day of practice for its 'home' race in Malaysia, Gascoyne feels that the Hingham-based operation is well on course to deliver on its pre-season promise.
When asked by AUTOSPORT what the key was to Lotus having such a solid start to 2010, Gascoyne said: "I think it is experienced people. Experienced people being able to put together a team. They are people that I have worked with before. You know they work the right way, you know they work as a team together.
"So it is a case of putting them together and showing them how well they can do. It is not about me - people like Dieter Gass coming on board, Keith Saunt as COO back at the factory. Everyone is stepping up to the plate and delivering.
"One of the things we are really pleased about is the positive feedback we are getting from everyone - we should be here, we deserve to be here and the Lotus name is back.
"It is going to start delivering and do what it should do – and that is hopefully the message we are proving at the moment. We still have a long way to go, but we are not sitting here saying we've done it. We know exactly how far it is to go and how hard it is and all of that, but we are on the road and off we go."
Gascoyne's positive view on the progress being made by the team has been echoed by Jarno Trulli, who feels that the outfit is moving forward even though big performance steps have yet to come.
"I'm happy because I can see things are happening and moving on," Trulli told AUTOSPORT. "I'm not talking about performance, because for the moment we have to forget about performance.
"But we are at least picking up the essentials from the car in order to understand what's right and what's wrong, because lots of people say we're missing downforce, but I don't think we're only missing downforce. We're missing several things around the car, there are several areas we need to improve.
"At the moment for me it's very hard, because it's not the kind of car I like. It has some big issues, which we have to solve - and we will solve. And I'm giving the team my feeling and the direction we have to take. Once we get downforce on the car, mechanically we need to be on the same level."