Trulli: Lotus ready to aim forwards
| | |
| --- | --- |
| By Jonathan Noble | Friday, April 2nd 2010, 03:58 GMT |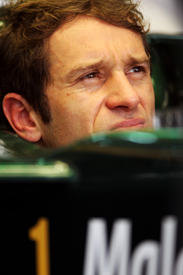 Jarno Trulli thinks Lotus is already in a position to shift its focus to closing down the gap to current outfits - after claiming that his new team is in a different league compared to the other Formula 1 rookie squads.
With Lotus at the centre of attention this weekend on 'home' turf in Malaysia, Trulli is bullish about the state the team is in just two races in to the campaign - and excited about the focus now shifting to bringing performance on.
Speaking about the pressures of racing for a new team, Trulli said: "At the moment there is no pressure. All you can hope is to finish the races, and try to be in front of the other new teams.
"I honestly believe it will be pretty easy for us – as our team is in another league compared to the other new teams in terms of structure, in terms of experienced people. We are very strong compared to them – so we should not really care any more about the people behind. We should start caring about where we want to go in front."
Trulli has praised the efforts of team chiefs to get Lotus into its current shape – and is adamant he made the right decision in opting to join it.
When asked by AUTOSPORT if Lotus already felt like a proper F1 team, he said: "Oh yeah. The good thing is that when I made the choice, I thought I didn't want to get on board any other new team apart from this one.
"This team is the one that looked more professional, with more professional people, so I was saying – okay, if I really have to start from the bottom then at least I start there with a professional team from a professional point of view.
"Honestly, at the moment the only thing we could change is obviously the results, where we can hardly work on the car because we are short in pieces, and we cannot really set up the car. We have so many problems that we just need to drive it and keep it on the track – and you cannot really show our performance."
Trulli also thinks that Lotus is helping change the atmosphere in the paddock by the way it approaches dealing with fans and the media.
"I tell you, it is a very different atmosphere and way of thinking compared to what I was used it," he said. "I think this is really down to Tony [Fernandes]. He is a very charismatic person but as well he is someone who really keeps his feet on the ground. He speaks with people, he keeps things simple and open to everyone – which I think is the right spirit at the moment for our team.
"We know that we are here to race, but not to race for the win at the moment. Somehow we have to make an impact to the people around, and everyone is welcoming us at the moment.
"First of all, there were a lot of questions raised about this team, but after two races we are treated a bit more seriously. On the other hand, we are showing that we don't have to hide, we don't want to cover.
"If you come and ask, we talk – and life is easier for you journalists and it is good for us drivers and team members. Tony is bringing this fresh air inside F1, which I think eventually should catch everyone to give some more open space and fresh air to people in the paddock and back at home.
"The atmosphere is very different compared to what I was previously used to – not only my previous team but from whenever I was in F1. It is very different."