Latvala 'can handle' running first
| | |
| --- | --- |
| By David Evans | Thursday, April 1st 2010, 19:20 GMT |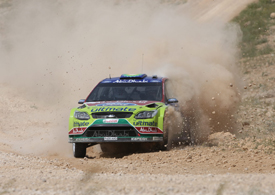 Jari-Matti Latvala is confident he can still win the Jordan Rally, despite his day one lead putting him in the most unfavourable position on the road tomorrow.
The Finn will lead the field into tomorrow's six stages - which includes two runs at the fearsome, 25-mile Jordan River test. Going into the final stage of the day, Latvala was five seconds up on Petter Solberg, but once the teams had completed their reshuffling for day two, the Ford driver was half a minute ahead of Sebastien Ogier's Citroen.
"I have done this before, leading and winning from the front," said Latvala. "I did it in Sardinia last year, so it can be done. All I can do is keep the car tidy and not push too hard. If I start to push too hard, we will start to slide and then the time is gone."
After a troubled time on the last event in Mexico, Latvala admitted he arrived in Jordan with his Focus RS WRC 09 in perfect shape - following his two-day test in Sardinia the week after round two.
"The test I did worked really well," he said. "It was just what I needed after Mexico. The trouble was that I was running the car softer to try and find some traction, but that meant we were compromised on stability in the high-speed sections. In the test, we ran the car harder and it worked well. It's been the same here, I have more confidence in the car. The car is really good for me."
Team director Malcolm Wilson added: "To come to an event seeing the benefit of a test is always really satisfying, he now really understands what he wants from the car. Jari's made a great start to the rally and now let's see what tomorrow brings."