Q & A with Pedro de la Rosa
| | |
| --- | --- |
| By Jonathan Noble | Thursday, April 1st 2010, 08:04 GMT |
Pedro de la Rosa missed out on his first point of the season in Australia when he was passed in the closing laps by Michael Schumacher and Jaime Alguersuari while struggling on worn tyres.
But the Spaniard is enjoying his return to Formula 1 racing and is confident that his Sauber team will be stronger in Malaysia than it was in the first two races.
AUTOSPORT heard his thoughts on Melbourne, the controversial Red Bull ride height issue, Sauber's F-duct development and his hopes for the weekend ahead.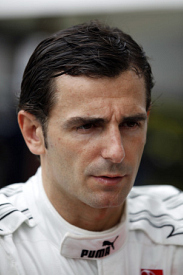 Q. You came close to scoring points in the Australian Grand Prix. What happened at the end of the race when your pace dropped off?
Pedro de la Rosa: There were many, many things we could argue about - but basically I damaged the car running over several kerbs. The floor of the car was not working as it should, which cost us downforce and helped degrade the tyres a little more.
Having said that, it was tough. It was always going to be difficult to get a point there, because other people were coming very quickly with fresher tyres. But had we kept the car in one piece, I am pretty certain that I would have been able to fight a bit stronger for the last points.
Anyway, that is how it was. I was pushing 100 per cent, using the kerbs as much as I could, but I damaged the car in the meantime. And when you lose downforce, the tyres suffer – especially if you are on a one-stop strategy.

Q. Did you know that you had damaged the floor?
PDR: No. I could tell that the car was very difficult to drive and that the rear end was weak. But I didn't go off once in particular, I was just running over some exit kerbs lap after lap – and that is what damaged the car.

Q. Do you think if you had changed tyres that the result would have been different?
PDR: Well, if we would have planned to change the tyres before then maybe. But the moment you follow other people's strategy, then you are dead. That is why I think the team did the right thing to stick to the one-stop strategy and run until the end. It didn't work out. I didn't help damaging the floor, but this is racing. You have to push 100 per cent. We are not in a position of taking it easy.

Q. Do you think the result reflects the performance of the car at the moment?
PDR: I think that the result was disappointing. We should have been able to score some points, but having said that, for us to score points is going to be very difficult at the moment. We are in that position where we are just outside the top 10, so it is very difficult for us to make the next step, and that is why Australia was a missed opportunity.
We did everything right, we did a good start, we kept out of trouble, we were running quite high up there and unfortunately it didn't work out. Now we come here, it is a different track but should us a little bit better.

Q. What is it about this track that suits your car?
PDR: I think that the two very important things are that there are a lot of medium and high-speed corners that suit our car, and then it is certainly a lot less bumpy a track than Bahrain and Australia. I am always a very optimistic person and I think this track should suit us more.

Q. Will the high temperatures benefit you as well?
PDR: We don't have any warm-up issues with the tyres. The question is really how it will affect other teams, in terms of how much they have to cut their bodywork for cooling. That is always critical here as some teams are able to run very close. Others have to open more the bodywork and lose the downforce, so that is basically the question we will answer in the next few days.

Q. Where are you in this range?
PDR: We are in the middle. I don't think we are that bad, but the fact that the car, in winter testing, when we had high-speed corners we were always competitive there. So that is why I am more optimistic here.

Q. Are you running your F-duct this weekend?
PDR: We will run it tomorrow, to continue the testing. It is a modified version and we are trying to get on top of it.

Q. But it may take quite a while to get it on the car?
PDR: It is not an easy system to make it work and they have been working very hard in Hinwil to get some modifications in time – and we will see tomorrow. We will react accordingly. If it works, fine. If it doesn't we will wait for another grand prix. But we are pushing 100 per cent on this.

Q. Are you one of the teams that are concerned about how Red Bull Racing is working its suspension?
PDR: No. I have heard the rumours flying around on this scenario, but we are not concerned about rumours to be honest. I don't know exactly what they are doing, or if they are doing anything, or if they can do anything.

Q. Lewis Hamilton has called the Red Bull Racing advantage 'insane'. Have you been close to the cars at any time to have a judgement on it?
PDR: I think they are the most stable car in the corners – that is clear when you look at the on-board cameras or how quick they are through the corners. They are definitely the car that is more stable in low-speed, high-speed corners. But they also pay the price on the straights, so I don't think that they have a very big advantage.
They just have a very, very quick car in the corners but they are vulnerable on the straights – while other teams follow a different strategy. The McLaren is the fastest car on the straights but they pay the price in the corners – so I think overall they have a small advantage but it is not enormous at all.

Q. So how do you have a car that is grounding and sparking in qualifying, but then has 160kg of fuel added?
PDR: I really don't know. We have other issues, really. I don't know what they are doing. As far as we are concerned, we just have to work on our car as much as we can, but we obviously are not changing anything from qualifying to the race because ride height should be fixed.
We don't know what they are doing and to be honest I don't really care. We just have to maximise what we have – but it could be they are doing nothing. They have a plank, they wear the plank the first few laps, they are sparking and that is it.

Q. This is one of the toughest tracks physically. Have you done anything special to prepare for the weekend?
PDR: No, nothing special. Just be here as soon as possible – I was here on Monday and spent as much time as possible outside, not in the air conditioning. That is the only thing you can do, train outside, walk outside, eat outside and spend time in the heat.

Q. You have come back to racing this year like Michael Schumacher, and he has said he feels a bit rusty. How have you found it?
PDR: I found myself in a very good shape actually. I was quite surprised. When we started testing in the winter, the first time in Valencia was tough. Then we went to Jerez, a proper race track, and the first day I realised I had to build up a little bit from here. Racing itself has been very easy to me – the starts for example; I have felt very much at home.
The last grand prix was fantastic. The start of the race with inters, having to switch to slicks, going out in the wet track – I went behind Lewis after the pitstop and I remember coming out of the pitlane and thinking, 'look, this is possibly the quickest guy on the planet in semi-dry conditions, so let's see how we do'. I could follow him the first few laps out in semi wet/dry conditions and I was very proud. I realised I am there... I am back.