Alguersuari learning from Schumacher
| | |
| --- | --- |
| By Steven English | Wednesday, March 31st 2010, 16:13 GMT |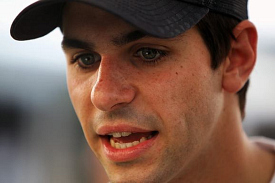 Jaime Alguersuari says he learned from his race-long fight with Michael Schumacher in Australia, despite eventually being passed by the seven-time world champion and missing out on his first Formula 1 point in 11th place.
The 20-year-old Spaniard held Schumacher at bay for 12 laps after the first round of pitstops, and then for another 22 after the second stops, before Schumacher passed him with five laps to go and scored the final point in 10th place.
Though disappointed not to score, Alguersuari says battling with Schumacher for so long in just his 11th grand prix taught him a great deal about working with the 2010 tyres.
"Schumacher took away a point, but without realising it he gave me much more," said Alguersuari. "He taught me how to understand better the tyres. If they had been better preserved, I would have done a one-stop strategy and I'm sure I would have been able to secure the points.
"However, I realise that very soon I will be able to make better use of the tyres - especially the soft ones. With the hard ones, I'm starting to be at its maximum performance level, although I have to preserve them longer."
He also praised Schumacher's part in their battle, despite the German's frustration at not being able to pass for so long.
"About Michael, I can only say that he behaved like a super professional," added Alguersuari. "He put a lot of pressure on me, but he didn't do anything that would result in a conflict between the two of us. I only cared about defending the point. I just saw the attacks of a grey car who wanted to take it away from me - I did not think if it was Schumacher and whether or not this was going to be an epic. It was another driver, who wanted the same thing as me.
"I came up against Pedro [de la Rosa], who was already without tyres, but it was not easy to pass him and the race was finishing. I went off slightly in a turn looking for space to pass Pedro and Michael took advantage of it. I closed him, I took him to the outside, wheel-to-wheel, but the next turn was favourable to him and I did not insist. Frankly, after two hours Pedro, Michael and I deserved the point, all three of us."