| | |
| --- | --- |
| Aoyama hits out at testing restrictions | |
| | |
| --- | --- |
| By Michele Lostia and Matt Beer | Wednesday, March 31st 2010, 10:07 GMT |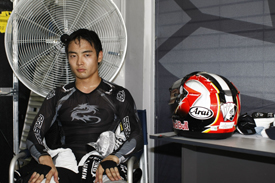 250cc champion Hiroshi Aoyama says the testing limits now in place in MotoGP are unfair on rookie riders, and that he will not have a chance to shine in the opening races.
Pre-season testing has been reduced to just six days for the race riders this year, with rookies allowed an extra three days.
Aoyama has joined the new Interwetten Honda team for his MotoGP graduation this year, but told Italian magazine Motosprint that he is expecting a low-key start to his rookie season.
"I'm not very happy at the moment, but it's my fault," he said of his testing form. "I'm also angry, however, because no one spared a thought for us rookies.
"The rule limiting testing to six days may be fine for veterans, but for a rookie like me is a big problem. Six days is nothing."
Although the rookie riders all had three days of extra running before Christmas, Aoyama said this was "not enough" to really get to grips with the step up from 250cc to MotoGP.
"Considering the three days we did in December, nine days of testing allow you to understand very little of the bike," he said. "The season is now about to start. I hope to be able to do some small progress within a couple of races, but I fear more races are needed.
"I need to improve my sensitivity - I need to understand problems more quickly, I need to recognise them and most of all I need to be able to explain them to the technicians. That's how you improve in this class.
"It's a problem because sometimes I get confused: I can't fully understand whether the problems come from the chassis, the suspensions, or the electronics."