Haug: Schumacher as good as always
| | |
| --- | --- |
| By Jonathan Noble | Tuesday, March 30th 2010, 11:18 GMT |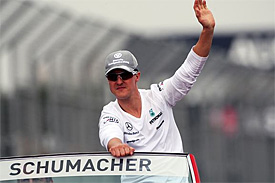 Mercedes GP is adamant that Michael Schumacher continues to be as good as he always was - despite a less than stellar return to Formula 1 so far.
Schumacher has been outqualified and outraced by team-mate Nico Rosberg in the first two races of the year – and spent much of last weekend's Australian Grand Prix fighting near the back of the field with youngster Jaime Alguersuari.
But despite on paper having not delivered the kind of results that some expected, Mercedes-Benz motorsport boss Norbert Haug is sure that Schumacher retains the same magic that drove him to seven world titles.
"Absolutely," Haug told AUTOSPORT when asked if he believed Schumacher was as good as ever. "He has got it. And we have one of the strongest driver pairings in the field.
"It is up to us to improve the package further. It is fair to say we improved it on this track compared to Bahrain, which was a completely different story."
Haug thinks that the results so far have not shown the true picture of how Schumacher is comparing to Rosberg – especially after he was baulked by Alonso in qualifying in Melbourne, and his performance in the race in Australia was compromised by car damage that was only discovered after the event.
Haug also believes that Schumacher's critics should get off his back – because he took on the challenge of returning to F1 rather than shying away from it for fear of failure.
"If you look Saturday morning, if you look at the times, if you look at qualifying Michael was handicapped behind Alonso, and it is fair to say it was a very comparable lap to Nico," explained Haug. "And I think Nico is one of the highest rated guys of the current generation, with four years experience.
"Michael is missing three years of these fours years, but he is here to be competitive. And he could sit on his sofa saying, 'nobody won more than I did', but this is his passion.
"He is a more relaxed guy than ever, he has fun, he is a very good team member, team player – the two guys, you see it in press conferences, they have fun with each other and make jokes with each – but still very focused."