Button keeps expectations in check
| | |
| --- | --- |
| By Pablo Elizalde | Tuesday, March 30th 2010, 10:21 GMT |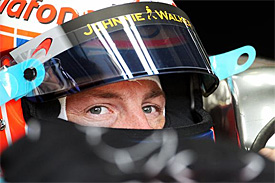 Jenson Button has warned not to expect McLaren to be as strong as in Australia this weekend, as he reckons the Sepang circuit will not suit his car as well.
The world champion is confident, however, that his team will be running near the front.
"It was a tremendous achievement to score our first win of the season in Melbourne last week, and it's given every single member of the team even greater enthusiasm for this weekend," said Button in a team preview ahead of the Malaysian Grand Prix.
"Even so, I think we travel to Sepang mindful that the characteristics of the circuit probably won't suit our car as well as it will suit some of the others - but I'm confident that, once again, we'll be fighting at or near the front."
Button took his first victory with McLaren after a perfect strategic decision paid off in Melbourne.
The McLaren driver believes the competitiveness of each team will already begin to depend on the development rate, despite Malaysia being only the third race of the season.
"We're only two races in, but I think the development race will already be starting to have an influence on performance," he added. "It's the rate of improvement that will most influence the battle at the front.
"And I'm confident we can deliver in this area: it was something I watched the team doing throughout 2009, and it was one of the key reasons for deciding to hold talks with the team. I'm convinced we have the firepower to develop faster than our key rivals."
Team-mate Lewis Hamilton is optimistic that his car will be stronger in Malaysia than last year, but the Briton admitted he is expecting his team to have problems to match its rivals in qualifying trim.
"Sepang has some of the best high-speed corners on the entire calendar. And, this year, I think we've got a car that will be far better suited to the circuit than we did last year, so I'm heading to Malaysia optimistic of a good result," he said.
"It's a fast circuit, that requires a well-balanced car with a good level of downforce. In some ways, it's quite similar to Barcelona, where we tested well before the start of the season, so I'm optimistic that we'll be competitive this weekend.
"However, I still think it might be difficult to make up the difference that's needed in qualifying. Hopefully, that's something that we'll be able to solve as soon as possible.
"Last year we saw what could happen here once the weather took over. While I'm hopeful that this year's race will be run in the dry, you can never discount the threat of rain. Either way, I think we'll be competitive."