Hamlin snatches Martinsville win
| | |
| --- | --- |
| By Diego Mejia | Monday, March 29th 2010, 21:50 GMT |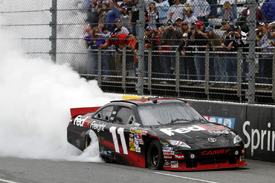 Denny Hamlin snatched victory in a dramatic finish at Martinsville Speedway, claiming his third career win at the track before heading to the surgery room this week.
Hamlin led a race-high 171 laps but he still had to work hard for victory in the closing laps of the rain-daleyed event, which was attended by an estimated crowd of 25,000 on Monday afternoon.
The Joe Gibbs Racing driver looked set to take an easy win when his race-long rival Jeff Burton had to give up the fight due to a deflating right-front tyre a few laps from the chequered flag.
However as Burton's tyre finally gave up with eight laps to go, the caution flag waved and defying logic, Hamlin was called into the pits by his crew chief Mike Ford.
The 29-year-old dropped to ninth with just four laps remaining and it looked as if his team had just given up a clear win, as his second-placed team-mate Kyle Busch also pitted from second, handing the lead to Hendrick Motorsports' Jeff Gordon.
When the green flag waved Hamlin quickly charged back and was able to move up to fourth, but up front Gordon looked in control. But just when he was about to take the white flag, Kyle Busch got turned around by Paul Menard, causing the caution to wave again and calling a green-white-chequered finish.
On the final restart Roush Fenway's Matt Kenseth left it as late as he could to hit the brakes from third into Turn 1, hitting Gordon's Chevy hard enough to unsettle it and get side-by-side with him. The Hendrick driver retaliated and closed the door on Kenseth, both making contact and rubbing fenders along the backstretch.
Hamlin was up to third already after bumping the Stewart-Haas Chevy of Ryan Newman out of the way at Turn 2, and as Kenseth braked for the final time on the inside of Gordon, he slid up the track and against the wall, leaving the door open for Hamlin to dive to the inside of both to take the lead.
The Virginia-born racer completed that final lap unchallenged and in disbelief at his feat as with only three green-flag laps since he restarted from ninth on the penultimate caution, he was able to pass eight cars to claim his ninth career win and his second in a row at Martinsville.
"I can't believe it. I thought it was the end for us," said Hamlin about his team's call for the late four-tyre stop. "Once we committed to pit road, we had no choice - we had to do it. We decided to take four [tyres]. We restarted ninth and I knew we were going to have to have a caution to help us.
"We were able to gain some spots and everyone was sliding everywhere with those old tyres. We were just able to come through somehow."
Hamlin was scheduled to get surgery on his left knee today for a torn anterior cruciate ligament, a procedure he now looks set to undergo on Wednesday.
Joe Gibbs Racing still got a one-two finish that looked unlikely when Hamlin and Busch pitted from first and second places during the penultimate caution. Joey Logano, who ran strongly among the top ten for most of the day, was able to take advantage of the contact between Kenseth and Gordon to pass both as well and then follow the winning Toyota on the final lap and to the chequered flag.
Gordon, who led for 92 laps, mostly in the first half of the race, was an unhappy third, blaming Kenseth for costing him victory on the final restart. He also seemed to disagree with NASCAR's call for the last caution, as had he taken the white flag before officials waved it, he would have been celebrating his 83rd career win.
"We were a hundred feet away from getting that white flag, getting the victory. So that's frustrating," said Gordon. "I got an okay restart. Spun the tyres a little bit, got going. I looked at my mirror, [Kenseth] was pretty far behind me. Made sure I didn't drive in too deep. Next thing I know, I got nailed... I made sure [Kenseth] didn't win the race down the straightaway."
Newman claimed his first top five of the season in fourth, ahead of Martin Truex Jr.
Meanwhile Jimmie Johnson seemed to have his wings clipped at one of his favourite venues, in the race that marked the return of the rear spoiler. The reigning champion never led a lap and was far from contending for victory, despite running in the top ten for most of the race. He still came home in ninth and grabbed the lead in the drivers' standings.
Burton, who led 140 laps, ended up only 20th after his right-front tyre issue, in what turned out to be a rather frustrating day for Richard Childress Racing. His team-mate Kevin Harvick also led 57 laps from pole, but struggled with brake-related issues and he was forced to go to his garage just after the 100-lap mark.
Many cars succumbed to what seemed to be heat-related problems in the brakes, which translated into deflating tyres as the inside bead on the right-front tyre melted. Juan Pablo Montoya and his Earnhardt Ganassi Racing team-mate Jamie McMurray were top ten contenders before facing those issues, as they were unable to make the right front last more than 50 laps before they failed.
The Sprint Cup Series takes a break next weekend before returning in two weeks' time at Phoenix.
Pos  Driver             Car        Laps
 1.  Denny Hamlin       Toyota     508
 2.  Joey Logano        Toyota     508
 3.  Jeff Gordon        Chevrolet  508
 4.  Ryan Newman        Chevrolet  508
 5.  Martin Truex Jr    Toyota     508
 6.  Brian Vickers      Toyota     508
 7.  Clint Bowyer       Chevrolet  508
 8.  Carl Edwards       Ford       508
 9.  Jimmie Johnson     Chevrolet  508
10.  Greg Biffle        Ford       508
11.  Marcos Ambrose     Toyota     508
12.  Brad Keselowski    Dodge      508
13.  Sam Hornish Jr     Dodge      508
14.  Paul Menard        Ford       508
15.  Dale Earnhardt Jr  Chevrolet  508
16.  David Ragan        Ford       508
17.  Kasey Kahne        Ford       508
18.  Matt Kenseth       Ford       508
19.  David Gilliland    Ford       508
20.  Jeff Burton        Chevrolet  508
21.  Mark Martin        Chevrolet  507
22.  Kyle Busch         Toyota     507
23.  Kurt Busch         Dodge      506
24.  Elliott Sadler     Ford       506
25.  Mike Bliss         Chevrolet  506
26.  Tony Stewart       Chevrolet  506
27.  Travis Kvapil      Ford       506
28.  David Reutimann    Toyota     503
29.  Bobby Labonte      Chevrolet  499
30.  Jamie McMurray     Chevrolet  498
31.  Kevin Conway       Ford       498
32.  Regan Smith        Chevrolet  496
33.  Scott Speed        Toyota     491
34.  Robby Gordon       Toyota     480
35.  Kevin Harvick      Chevrolet  408
36.  Juan Montoya       Chevrolet  400
37.  David Stremme      Ford       307
38.  AJ Allmendinger    Ford       173
39.  Joe Nemechek       Toyota     67
40.  Max Papis          Toyota     52
41.  Aric Almirola      Chevrolet  43
42.  Dave Blaney        Toyota     24
43.  Michael McDowell   Toyota     19