Webber says he went down fighting
| | |
| --- | --- |
| By Pablo Elizalde | Sunday, March 28th 2010, 08:58 GMT |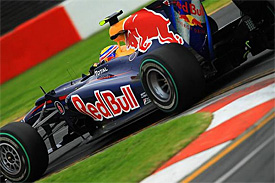 Mark Webber says he at least was happy to "go down fighting" after a disappointing Australian Grand Prix.
The Red Bull driver, starting from second position, finished in ninth place after a troubled race which included a crash with Lewis Hamilton at the end of the event.
The incident forced Webber to pit to repairs, dropping him down the order.
Webber hoped that at least he produced an entertaining race.
"Well, I went down fighting," Webber told the BBC. "In the end, when you are a little on the back foot, as we were for different reasons, like I say the first stop and things like that.
"I think it was best to throw caution to the wind and get into it. I was thinking of Bahrain for the people at home, maybe we should do something different, so in the end I didn't want it to finish like that but hopefully it was a bit more enjoyable."
Webber was running in second behind team-mate Sebastian Vettel, but a pitstop a lap later than the German saw the Australian drop down to sixth.
The Red Bull driver was then running behind Hamilton when the Briton tried to pass Ferrari's Fernando Alonso.
Webber left his braking too late and crash into the back of Hamilton.
"It was very difficult to get the moves done on the inside because it was still a bit greasy and obviously Lewis enjoys an incredible straight-line speed so it was very difficult to get the moves done on those guys. Then Lewis and I both caught Fernando.
"I was looking forward to the last part of the race, thought it would be a good fight. We both got a run on Fernando. I apologised to Lewis.
"I was looking to get also the run coming back out but when I got that close, the front wing just basically did not work - I could not get the car stopped. It lifted up ... I just locked up, tried to get more on the inside to make it wheel-to-wheel but in the end obviously I hit him with the front wing and the rear tyre. That's car racing."