Mercedes aims to add F-duct soon
| | |
| --- | --- |
| By Jonathan Noble | Saturday, March 27th 2010, 12:18 GMT |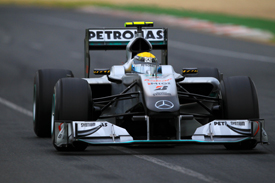 Mercedes GP is planning to introduce its own version of McLaren's F-Duct system as soon as it can - because it believes it delivers a 'significant' advantage.
The McLaren system provides a boost in top speed because it helps stall the rear wing on the straights when the driver closes off a vent in the cockpit.
Although Renault has already ruled out integrating the device onto its car, Mercedes GP is already evaluating how quickly it can fit it onto its contender.
When asked if the team was going to run an F-Duct soon, Mercedes GP team principal Ross Brawn said: "Yes. It's quite a significant gain.
"We're normally battling the drag and downforce from the rear wing and that gives a step change in the drag. It's not an easy system to get working properly as you've probably seen from Sauber's first attempts – they've not gone smoothly.
"We're working on it, but it's a little difficult to predict when we'll have something we are comfortable with – because of the lack of testing. It's quite a challenge. We're working on it and will have it on the car as soon as we can."
Brawn was unsure if the team would have it ready for the Spanish Grand Prix – where teams are all likely to bring on major development upgrades.
"I honestly don't know," he said. "We are doing it as quickly as we can, and if it works it will happen very quickly. If it doesn't work, we will have the solve the problems as quickly as we can."