Spurs retains Dolby in Superleague
| | |
| --- | --- |
| By Matt Beer | Saturday, March 27th 2010, 10:00 GMT |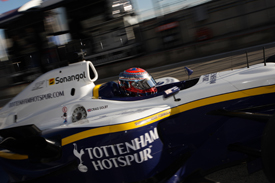 Craig Dolby says he is determined to go one place better and claim the Superleague Formula title for Tottenham Hotspur this season after re-signing with the Alan Docking Racing-run squad.
The 21-year-old Briton has been a Superleague frontrunner since the series' inception, taking several podiums for Anderlecht in 2008, and winning his first race last year on the way to the runner-up spot in the championship.
"I can't wait for the season to start," Dolby said. "I said at the end of 2009 that if I got the chance to come back again, 2010 had the makings of a fantastic year for myself and Spurs.
"I am grateful that Alan Docking stuck by me over the winter and wanted to keep me in his team. The same goes for Tottenham actually, which is a great endorsement.
"There's no question that I'm aiming to go one better and win the title this season. I've only got the top step in mind.
"It's going to be tough as some great drivers have been signed which is fantastic not only for the championship but also myself, as it gives me the chance to go up against them and hopefully come out somewhere near the top."
Liverpool beat Spurs to last year's crown with Adrian Valles, and this season the Merseyside squad will run a British driver too, having signed James Walker. Dolby expects that to mean a big turnout when the championship commences on his home ground at Silverstone next weekend.
"I know James well and he's a very strong driver to race against," said Dolby. "It's great that the championship starts at Silverstone too so the support should be unbelievable with two British drivers competing for two Premiership clubs."