Branson calm over fuel tank error
| | |
| --- | --- |
| By Jonathan Noble | Saturday, March 27th 2010, 06:15 GMT |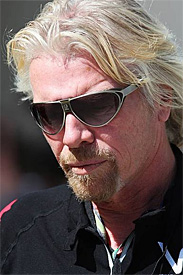 Richard Branson says he remains wholly committed to his Virgin Racing Formula 1 team, and the staff behind it, despite the outfit's fuel tank error.
Virgin Racing has had to apply to the FIA to be allowed to make modifications to its chassis so it can fit a larger fuel tank - after discovering that it might not hold enough fuel to allow it to finish all races.
Although the error has proved an embarrassment for the team, Branson thinks the situation will have no negative impact on his company's image - and has revealed there will be no financial consequence as Virgin's supplier is paying for the modifications.
"I think all of us around this table know that he [Nick Wirth] has managed to get a car that is the fastest of the new cars, but there is an issue here that is going to take a few races to fix," said Branson at the Australian Grand Prix.
"It will actually give the car some time to have some practice time – because the new cars were given so little practice time. Over the next five races we will learn more and more about the car.
"It also hasn't cost us anything. I read one or two articles saying it had cost us a lot of money, but it is not going to cost us a thing. It will be the supplier whose issue it is who has agreed to redesign it, so it won't cost the team anything.
"Obviously, we would rather it hadn't happened, but these things happen and it is F1. It is the birth of a new team and even the most experienced teams have issues, even the most experienced car companies have issues."
When asked if the affair was damaging to the Virgin name, Branson said: "I don't think so. The Virgin name is synonymous with experimentation and trying things.
"People, when we first tried to cross the Atlantic in a boat, people said that if the boat sinks then it will reflect badly on the Virgin companies. Well the boat did sink, and we came back and were successful the next time.
"I think the Virgin brand has been a challenging underdog brand throughout its history and it will continue to do so. In the end we will get it right, but there are going to be teething problems on the way."
Branson sees no reason why the team needs to change its target to be the best of the new outfits this season after its frustrating start to the year.
"We are still hoping to be the best of the new teams – and we are obviously going to be more challenged," he said. "If we can get this problem resolved, and we don't have an hydraulic problem and we don't have a gearbox problem, then we know we have a fast car.
"A few things need to start going our way. It will also be interesting to see how all the teams perform."