Courtney snatches race one victory
| | |
| --- | --- |
| By David Wright | Friday, March 26th 2010, 08:27 GMT |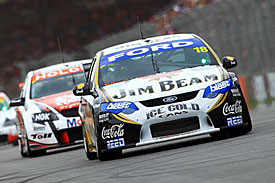 Jim Beam Racing's James Courtney took victory in race one of the BRC Impco V8 Supercars GP Challenge at Albert Park after rival Garth Tander outbraked himself with three laps remaining.
Tander had led the race from pole position to that point, although he had already made a mistake at the start of lap two when he ran onto the grass at turn one, almost allowing Courtney to get past.
Courtney pressured Tander from that point on until he ran wide at turn three on lap 11 of 13, allowing Courtney to sneak through and hold off Tander to the chequered flag.
Third and fourth were Shane van Gisbergen and Craig Lowndes, who remained in close contact with the leading duo and each other throughout the race, with just 1.2 seconds covering the top four cars at the finish.
Just over half a second behind team-mate Craig Lowndes was Jamie Whincup in fifth place, having recovered from a poor start which saw him drop to ninth early on lap one before making his way back up the order.
More than ten seconds separated Whincup from Todd Kelly in sixth place, with Paul Dumbrell, Steven Johnson, Mark Winterbottom and Will Davison completing the top ten.
Having qualified fourth, Rick Kelly looked set for a good result, even more so after making a great start, forcing down the inside of Courtney heading into turn one. But in doing so, he had put two tyres in the grass soon after the start, and he ran wide at turn one, dropping from second to eighth.
Halfway around lap one, it got even worse, Kelly spinning into the gravel at turn nine, nearly hitting Dumbrell in the process. He returned to the race but well behind the leaders, finishing in 24th place.
Pos  Driver                Make                  Time
 1.  James Courtney        Ford Falcon FG        25m58.8986s
 2.  Garth Tander          Holden Commodore VE   +   0.2595s
 3.  Shane Van Gisbergen   Ford Falcon FG        +   0.7039s
 4.  Craig Lowndes         Holden Commodore VE   +   1.1791s
 5.  Jamie Whincup         Holden Commodore VE   +   1.7242s
 6.  Todd Kelly            Holden Commodore VE   +  12.5207s
 7.  Paul Dumbrell         Ford Falcon FG        +  14.1495s
 8.  Steven Johnson        Ford Falcon FG        +  15.5661s
 9.  Mark Winterbottom     Ford Falcon FG        +  15.7144s
10.  Will Davison          Holden Commodore VE   +  18.4169s
11.  Lee Holdsworth        Holden Commodore VE   +  18.7356s
12.  Fabian Coulthard      Holden Commodore VE   +  19.8534s
13.  Jason Richards        Holden Commodore VE   +  20.3644s
14.  Alex Davison          Ford Falcon FG        +  20.7161s
15.  Jason Bargwanna       Holden Commodore VE   +  24.4027s
16.  Jason Bright          Holden Commodore VE   +  24.7546s
17.  Russell Ingall        Holden Commodore VE   +  25.2920s
18.  Tim Slade             Ford Falcon FG        +  27.5071s
19.  Jonathon Webb         Ford Falcon FG        +  27.8663s
20.  Greg Murphy           Holden Commodore VE   +  28.2455s
21.  Steven Richards       Ford Falcon FG        +  33.6833s
22.  Dean Fiore            Ford Falcon FG        +  34.3589s
23.  Michael Caruso        Holden Commodore VE   +  37.4648s
24.  Rick Kelly            Holden Commodore VE   +  39.9776s
25.  Tony D'Alberto        Holden Commodore VE   +  41.1182s
26.  Daniel Gaunt          Holden Commodore VE   +  43.0668s
27.  Karl Reindler         Holden Commodore VE   +  43.7441s
28.  Andrew Thompson       Holden Commodore VE   +  44.7553s
29.  Tony Ricciardello     Holden Commodore VE   +  57.4774s