Q & A with Lewis Hamilton
| | |
| --- | --- |
| By Jonathan Noble | Friday, March 26th 2010, 02:23 GMT |
Lewis Hamilton heads into this weekend's Australian Grand Prix confident that his McLaren team can do better than it showed in Bahrain a fortnight ago.

Although the team was left downbeat by its performance in qualifying for Sakhir, the pace of the car in the race showed that the MP4-25 was much better than its single lap form suggested.

AUTOSPORT heard from Hamilton in Melbourne as he talked about the lessons from Melbourne, his hopes for Albert Park and what it is like being at races without his dad.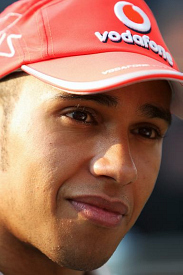 Q. In Bahrain qualifying you were a second off the Red Bull, but the race pace was virtually identical. What's the comparison of where you are?
Lewis Hamilton: Qualifying pace definitely appears to be quite a bit off - definitely off the Red Bulls, I mean I don't know where they've found their time. It was 'hey look at his lap'. It was so much faster in the middle sector where in the first and the last sector was quite similar.
I don't know, I guess as we get into the season we it will start to highlight exactly where we are losing those bits of time, but in the race, when the car is heavier and perhaps a little bit more balanced out, the cars generally feel a little bit better when they've got heavier fuel - at least mine does. I think it is how you use your tyres.
It is difficult to say why the [race] pace was closer, but perhaps they weren't pushing that much. Maybe they [Red Bull] knew they had the engine issue, maybe they weren't actually pushing that much. I'm sure if he [Vettel] needed to pull out more time, I'm sure he could have.
Q. So are you going to focus more on qualifying, getting the car set up for qualifying here than in Bahrain, knowing how important that is for the race?
LH: Definitely, because our race pace is not too bad and our understanding of the car felt pretty good in the race, I think clearly the most important part for us is to get the qualifying sorted - understand how to get the most out of the car on that single lap and clearly the qualifying position perhaps has more of an impact that it did in the
past.
Q. Is changing the diffuser a handicap?
LH: No, they said it doesn't make any difference. They just changed a small hole in the back of the floor. The hole is still there and they just had to tighten it up a bit I think. Hopefully it doesn't make a difference when I drive the car.
It's one thing to say need to concentrate on qualifying but another thing to do it. Is it possible to do it as soon as this weekend, or is it something that has to be done over the course of the season?
It's something we are progressively doing. In the simulator, we are trying to work on the car, work on the set-up, trying to understand exactly how the car is different from heavy fuel to light fuel and clearly we have another Friday now - each Friday you learn more and more – but this Friday we are definitely a step ahead of where we were the last Friday test and so we'll continue doing the same programme probably, but try to really extract maybe more from two runs or the first two sessions to understand how to warm up the tyres, making sure the tyre temperatures are perfect.
Q. Last year was it difficult when the race ended in the dusk?
LH: I think it is in the past. It wasn't easy at the last race, I think we all know that, but I think it adds something a little bit special to it – makes the place even more unique - and the Australian Grand Prix, this circuit, has always been quite special, I think, for me.
I love it here. I love it when we have the race at 2pm, when it was in the daylight and nice and hot, but it's perhaps it's a little bit better for the fans, a little bit cooler, and a little bit easier for us. As long as you have the correct visor I don't think it will be too much of a problem.
Q. Do you have an advantage over Jenson in this car at the moment as you perhaps know it more from last year?
LH: The thing is, I can't know this car more than anyone because this car is brand new. It is completely different to last year's car. If you go to the factory and look at last year's car and this year's car it is completely different and it handles completely different.
In the past our car has always been an oversteering car, now we have rear end and have lots of understeer so it's completely new to me and it's completely new to him. I don't think I have an advantage over him and I don't think he has an advantage over me. At some points in the year he's going to do a better job than me and at some points I'm going to do a better job than him.
Q. Do you think we'll see more variation in the strategies for the quick guys here or is it going to be the same – everyone on options, all coming in within a few laps?
LH: I don't think there is going to be any difference if I'm honest. I think it is going to be very similar to how it was – one stop.
Q. Will safety cars shake it up?
LH: I've not looked at how the safety car plays a role in the strategy but obviously the team will advise me before I go out. Here we've had quite a lot of safety cars in the past. Fingers crossed we don't have any in the race but it's definitely more of a risk this year.
Q. Have you seen a change in yourself since the events of Australia last year?
LH: Yeah, definitely. I think perhaps making better decisions and perhaps a little bit wiser than I was back then but I think you just continue to grow. I could say that I am good friends with Nelson Mandella and every time I see him he says that he is 90 years old, he's 92 now I believe, and he's always learning – still learning today so I've got a lot of learning to do.
Q. A lot of people seem to say that you have matured. Are you able to take that into this season as you look to win back your title?
LH: Definitely. I think that every year you just feel you make another step. It doesn't happen that quick but you feel like you make a step and last year it was a long, long, hard struggle and then we got back to the top and I was able to work on different sides of my driving.
When you are at the back, you have more time to focus on other areas and once I got to the front I felt I was stronger and I ended up on a high and I think I rolled with that into this year. I think the training preparation was better this year again, so just overall every year it gets better and better and I hope that continues because it's going to be quite good for me.
Q. Speaking about wise old men, you didn't have Anthony at the last race. How does that feel not having him around?
LH: It was definitely a different experience, but it felt good. It felt positive. It was a nice experience to be at a race on my own. I would never, ever go though a day forgetting the fact that I wouldn't be here without Anthony, without Linda, and I think it was a unique experience for them also, my dad at home probably had bacon sandwiches and probably had his feet up on the couch.
Q. Did you used to have dinner with them at races every night?
LH: We didn't actually, because I had a lot of appearances. I didn't even know where my dad would be most race weekends, he also knows everyone here, but obviously the Saturday night we would have dinner. It definitely is different not having his presence because he obviously has a great presence in the sport and you know when you are around it's a positive.