Q & A with Rubens Barrichello
| | |
| --- | --- |
| By Jonathan Noble | Thursday, March 25th 2010, 05:38 GMT |
Rubens Barrichello spoke to the media in the build-up to the Australian Grand Prix, with the issue of entertaining racing in Formula 1 still very much top of the agenda.
The Brazilian, who has 18 years of experience in Formula 1, explained the problems from the drivers' point of view and considered potential solutions, as well as giving his thoughts on Williams' start to the season and 2010's rookie drivers.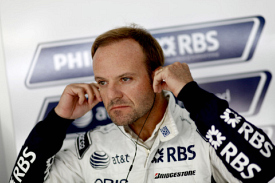 Q. In Bahrain everyone was expecting a lot of tyre degradation that didn't appear to happen. How do you see that here?
Rubens Barrichello: I think we're going to have to wait and see. We had a situation where I had the choice to start on the prime tyre in Bahrain, predicting that I would have to stay quite a long time on the tyre, to then go the option when the track had a little more rubber. But it was completely different, the tyres were fine for the race and what we thought would happen, never happened. I think everyone had an easy time on their second tyre, whether it was the soft or the hard.
Melbourne, we know the track improves a lot but it doesn't have the rubber than Bahrain had. So will we have the degradation or not, is something still to be seen. Plus we have the fact that the weather might play some cards. If it does rain on Saturday, like everybody is saying, then the outcome is a bit different. The slick tyres suffer with that.
Q. Can you explain the difficult with overtaking? Why is it so hard to get past?
RB: Sometimes I am a bit critical of things, but when I heard they will make the front tyres smaller, I just didn't understand it. The fact that we had better racing last year was because we dropped the ugly grooved tyres, to slicks. That's what we need, more mechanical grip, to be able to lose the aerodynamics.
We are losing aerodynamics all the time, but you follow another car and you just understeer off the track. Unless you have at least a second on board, which is not the normal thing - I overtook [Sebastien] Buemi but I was doing 2m01s, he was doing 2m04s and it wasn't an easy overtake. You cannot follow, the front of the car washes out. When you grab the throttle back on with lots of lock, you lose the back end so the car in front just goes away. Then you're into saving fuel and the race becomes a bit hard.
Q. Is there anything that can be changed, realistically, this year to make things better? Or are we stuck with these rules for the rest of the year?
RB: I hope there is something. First of all we need to wait four or five races before we take a conclusion on how it is, because Bahrain was one way but maybe it will get better. But then I am prepared to drive whatever car you give me. Unfortunately I'm not prepared to think of something that would revolutionise Formula 1 to make it better.
There was a fan outside and he asked me if we could have refuelling back. I told him it's not a possibility, it take a huge effort and lots of cost to reduce the size of the tanks, so I don't think that's possible at all.
Q. What is the bigger problem? The aero that you can't follow, or the weakness of the tyre that you don't have the mechanical grip?
RB: It's not the weakness of the tyre, it's the weakness of the rule, in my opinion. Bridgestone has proved already that it has tyres capable of doing things. The front tyre is weaker than last year and the rear tyres are of course better.
You need more mechanical grip, for me it's the only solution. They're going to argue that the car will go two seconds faster. But then you drop the performance on the aerodynamics again.
Q. What would happen if you had two tyre compounds, one a very short life and one a very long life?
RB: In theory that's what they're planning to have, that's why they bring tyres that are not close together. But the performance of the car, the engineers are so clever that we're still going round within three or four tenths. If you're talking about two seconds from one tyre to the other, then you have overtaking. A minimum of laps on each tyre might be one thing.
It is a difficult task, because if we make a tyre that's two seconds slower, but then we get to a place that's 10 degrees cooler, we'd never get the temperature and it's dangerous to go out. I can only say from what I saw inside, which is that it's very dodgy to follow a car because you don't have front tyres capable of maintaining the car on the road. Then the aerodynamics, we're taking that away, we're inviting the teams to improve the aerodynamics but it's a very difficult task because the noses are higher and things like this.
Q. Does the adjustable front wing make a difference?
RB: Not when you're following, no. You could think yes I'm going to be following so let's try to do that, but Formula 1 is very sensitive to that. You do it and you lose traction as well. As a matter of fact it's not easy to follow a car, whatever the situation of the front wing. The front wing is not supposed to do the job that we're requesting it to do.
Q. In that case, is it a mistake to take away KERS?
RB: KERS, for the future of the planet, is a great thing. But KERS last year didn't help the overtaking. It helped the overtaking, to protect your position. It came with a penalty because if the car in front was slower you could never overtake. It was a nightmare to get behind [Heikki] Kovalainen with the McLaren last year, you would never overtake if he hand his hand on that button. So, I don't think it did what it was supposed to do.
Q. In Bahrain you said the car was not as good as in testing. Did you find out what happened?
RB: We had some parts on it and we were hotter than we thought we would have been, so aerodynamically we were not as strong as in testing. We're much better here, we're much better for Malaysia already. There wasn't everything working, the team was in a bit of a rush, the mechanics were only sleeping a couple of hours per night. So it was everything for the first race, unfortunately. I think the car is capable of doing better and I hope we start this weekend well.
Q. There are quite a lot of rookie drivers this year. Are you happy with the way they've adapted, or are they presenting any problems?
RB: The problem is that a very difficult situation was presented to them. You're young and you have a car that is five seconds off the pace. I think Nico [Hulkenberg] has done quite well where he could, and the ones I met during the race they were fantastic. They got out of the way.
But we have a Formula 1 and we have a GP2. The thinking was to have the fastest car and win the race. But I was young when I went to Rio and got there at 6:30am because I didn't have a pass, and I met everyone from pre-qualifying at 6:30am, trying to get everything ready with 30 cars. That was magic because the real fan, such as I was, went there to see something. Now we have four cars more than last year, but they're not in the same league. Sometimes in pre-qualifying you had a time that was good enough to be in the top 10 all weekend. I'm not saying that's the fault of Lotus or anyone, but from the fans side and for the drivers themselves it would be better.
Q. What are your thoughts on Michael? He's used to being out front winning, but now he's going to be driving round behind the top four or six, having to work really hard...
RB: I have to be careful whatever I say there because it always sounds very dodgy coming out of my mouth. In true honesty, I think he can do well this year, but when he left he was winning all the time. For me he has more to lose than gain. If he doesn't care about that and he's doing it for pure pleasure, he's doing fine.
We should do things in life for pure pleasure. If Formula 1 wasn't watched on TV or by journalists or anything, and you had just the pleasure of yourself, looking in the mirror. And that's how I took 2007 and '08 because I had a terrible car but I drove races where I finished 13th better than I'd won races in better cars. So I had to look at myself and be happy with what I was doing. Unfortunately Michael is too much more to the outside, of course you guys are following him all the time. I've always thought he has more to lose than to gain, hopefully he is doing for his own pleasure and that's fine.
Q. Is the tyre generation good enough for his driving style?
RB: A good driver adapts to anything. We could in a way say it's not helping your style, but you get used to it. For me it was very difficult when I drove the Michelins. People knew how to keep the temperature. If I had a safety car, my temperatures would go down and I just lost everything. It took me a good six or seven races to learn everything.