Webber denies pondering retirement
| | |
| --- | --- |
| By Jonathan Noble and Matt Beer | Thursday, March 25th 2010, 04:30 GMT |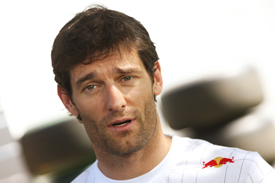 Mark Webber has insisted that retiring from Formula 1 is far from his mind, despite Lewis Hamilton suggesting that the Australian could walk away from the sport at the end of the season if this year goes well for him.
Hamilton told the Australian press that he suspected Webber, who has raced in F1 since 2002, would retire if he could leave on a high after a successful 2010 season.
"He has as good an opportunity as anyone to win the championship this year. I'm not sure how long he plans to stay in Formula 1 but I get the sense it's one of the years he really wants to finish on top and perhaps call it a day," Hamilton was quoted as saying.
"That's not from me. I don't know how old he is now but he's had a long Formula 1 career and everyone wants to end at a high. And he's probably got the best chance to ever finish on a high this year and I wouldn't be surprised if he's considering it - that he wants to win the championship this year and call it a day."
But today Webber denied that he was approaching this year with retirement in mind.
"[I am] very motivated, enjoying my job and looking forward to a great season, it is the way I have approached every year," he said. "I have no intention of retiring give or take whatever season I have."
The Red Bull driver added that he had no problem with Hamilton's comments, though.
"It is Lewis' opinion and he is free to have it and I don't have a problem with what he said," said Webber.
"I am happy driving for the guys I am driving for, it is a good situation and I am looking forward to it."