Meeke: Wilks is main title rival
| | |
| --- | --- |
| By David Evans | Wednesday, March 24th 2010, 10:21 GMT |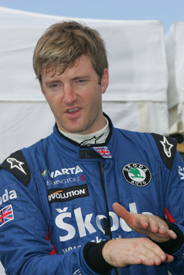 Defending Intercontinental Rally Challenge champion Kris Meeke says his fellow British driver Guy Wilks is emerging as the biggest threat to his title this season.
Three rounds into the series and Wilks holds second place in the title race with 19 points, five points adrift of leader Juho Hanninen, while Meeke is joint fourth in the championship with just the 10 points from his Curitiba Rally win.
Meeke says the first genuine asphalt rallies of the season - which two of the next three IRC rounds are - could take the advantage away from Hanninen, who has a self-professed preference for rallying on dirt.
"It's going to be interesting to see what Skoda does and the way Skoda plays the situation coming," said Meeke. "Right now, Hanninen is looking strong, but with the onset of asphalt events, I would think Jan Kopecky is going to take the advantage and he's going to be the driver pushing harder. How will Skoda deal with that?
"In the middle of those two drivers is Guy and you've got to say he's strong on both surfaces. On the basis of that, then yes, I would say it does look as though Guy is becoming the biggest competition."
Despite his retirement from last weekend's Rally Argentina, Meeke refused to be downbeat about his championship chances.
"I was looking good to leave South America with 16 points from those two rallies [Curitiba and Argentina] and that would have been the same as Guy and Juho, but it didn't happen for me," he said.
"We've not got to pull our finger out and get things sorted for the next event. I'm looking forward to going to the Canary Islands, it's a level playing field, none of us know the roads. I didn't know the roads in Argentina and we showed we could be on the pace before we hit problems."
Meeke admitted he had been concerned at the pace of the Skoda when the going got rough in South America.
"We need to work on the dampers and we know we have to work on the engine," said Meeke. "Equally, we know it's not going to be a quick fix, there's work to be done here, but we have to do it before we get to Sardinia [for round five, Rally d'Italia]. Okay, it might not be as rough as Argentina, but it could be even rougher - we don't know. We've got to be ready."
Skoda has not confirmed which of its drivers, if any, will be contesting the fourth IRC round of the season, the recently drafted in Canary Islands Rally late next month.