Johnson takes win 50 at Bristol
| | |
| --- | --- |
| By Diego Mejia | Sunday, March 21st 2010, 23:01 GMT |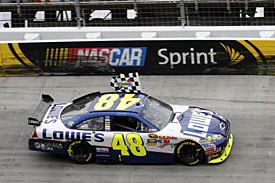 Jimmie Johnson's impressive early season run continued as he claimed his first-ever victory at Bristol Motor Speedway, the 50th win of his Sprint Cup Series career.
The reigning champion was able to beat the best combination of the day, Penske's Kurt Busch leading 275 out of the 500 laps but couldn't prevent the Hendrick Motorsports driver from taking victory.
Johnson and Busch were the best two all afternoon but despite alternating the lead between them from the early going, Busch seemed able to keep his pace during the long runs while Johnson struggled to do so.
However their battle for victory came down to a short sprint in the final ten laps of the race, following the eleventh caution of the day, caused by debris on the track.
Busch was leading at the time and he drove on to pitroad and took on a full set of fresh tyres, a move that Johnson mirrored. However, they found themselves back in fifth and sixth for the final restart, as Greg Biffle, Matt Kenseth, Carl Edwards and Tony Stewart took on two new tyres only.
Restarting from the outside lane Johnson quickly got past Busch and Edwards, as the inside line where Busch was seemed to be slow off the line, led by Kenseth.
It took four more laps for Johnson to overtake Biffle for the lead, and after doing so he easily pulled away making the most of his grip advantage to take his third win out of five races this year.
The Californian had never won a Sprint Cup series race at Bristol before, which made his win all the more special. There are now only five tracks where Johnson has yet to win, Homestead the only one of those raced during the Chase.
"Man, we have worked so hard for this," said Johnson. "I thought we were in trouble there but those four [new] tyres were everything and I was in the outside lane, which was helpful.
"...[Bristol] has been one of the most difficult [tracks] for us. It is so great to set some goals and go out and accomplish them as a race team. I am so proud of what we have done as a group. We've been off here over the years. We focused on what we needed to do and got it done today."
Busch finished third behind Stewart and couldn't hide his disappointment after not winning a race that was his for most of the distance. He believed restarting from the inside lane hurt his chances of winning.
"We were solid all day. We just got beat at the end on the luck of the draw on restarts," said Busch. "That's what our sport is about... luck on which lane is going to go. I don't know, I'd rather lose to any of the 41 cars out there than the 48 car.
"I thought we had them beat. I gave it my heart today, but came up short. We did well at Bristol. It was a great day for our Miller Lite Dodge. It's a shame we didn't bring it home for a victory."
Stewart and his Stewart-Haas squad fared best among those taking only right-side tyres on the final stop, also taking advantage of restarting from the preferred outside line. Roush Fenway's Biffle, Kenseth and Edwards finished third, fifth and sixth respectively after taking the final green flag from the top-three positions.
Biffle was a factor at times, leading 77 laps. On lap 342 he brought Mark Martin's promising charge to an end when he failed to spot the veteran on his outside at turn two, sending the Hendrick driver against the barrier.
Martin tried to drive into the pits with a damaged right-side, but he lost control of his Chevy and ended up causing a multi-car pile up that caught at least 12 cars, including some that had been contenders at the sharp end of the field.
Among those were Juan Pablo Montoya and Marcos Ambrose, the Colombian leading the race twice for 30 laps total before dropping down from the top-10 with a suspected suspension problem.
Several drivers had trouble with excessive wear on the right front tyre but the issue seemed to be a problem for specific teams like Joe Gibbs Racing. Despite that, Kyle Busch was able to come back from hitting the wall to finish ninth behind Dale Earnhardt Jr, who also recovered well after dropping down from the top-five due to a pit speeding penalty.
Rain threatened the event from running the scheduled distance, some even gambling on that when rain caused the caution flag to wave for a second time on lap 391. However the weather cleared enough to allow the race to be completed, with a downpour following once the race was over.
Points leader Kevin Harvick salvaged an 11th place finish, which allowed him to remain at the top of the standings by just one point over Kenseth, while Johnson is now third 14 points adrift.
Pos  Driver              Car        Laps
 1.  Jimmie Johnson      Chevrolet   500
 2.  Tony Stewart        Chevrolet   500
 3.  Kurt Busch          Dodge       500
 4.  Greg Biffle         Ford        500
 5.  Matt Kenseth        Ford        500
 6.  Carl Edwards        Ford        500
 7.  Dale Earnhardt Jr   Chevrolet   500
 8.  Jamie McMurray      Chevrolet   500
 9.  Kyle Busch          Toyota      500
10.  Jeff Burton         Chevrolet   500
11.  Kevin Harvick       Chevrolet   500
12.  Martin Truex Jr     Toyota      500
13.  Brad Keselowski     Dodge       500
14.  Jeff Gordon         Chevrolet   500
15.  Brian Vickers       Toyota      500
16.  Ryan Newman         Chevrolet   500
17.  A.J. Allmendinger   Ford        500
18.  Paul Menard         Ford        500
19.  Denny Hamlin        Toyota      500
20.  Elliott Sadler      Ford        500
21.  Bobby Labonte       Chevrolet   500
22.  Robby Gordon        Toyota      499
23.  David Gilliland     Ford        499
24.  David Stremme       Ford        498
25.  Travis Kvapil       Ford        498
26.  Juan Montoya        Chevrolet   498
27.  Joey Logano         Toyota      495
28.  Kevin Conway        Ford        492
29.  David Ragan         Ford        483
30.  Casey Mears         Chevrolet   483
31.  Scott Speed         Toyota      480
32.  Sam Hornish Jr      Dodge       477
33.  Marcos Ambrose      Toyota      448
34.  Kasey Kahne         Ford        432
35.  Mark Martin         Chevrolet   408
36.  Regan Smith         Chevrolet   329
37.  Terry Cook          Dodge       285
38.  David Reutimann     Toyota      113
39.  Aric Almirola       Chevrolet    59
40.  Clint Bowyer        Chevrolet    56
41.  Michael Waltrip     Toyota       46
42.  Dave Blaney         Toyota       40
43.  Joe Nemechek        Toyota       30