BMW loses Sebring GT2 pole
| | |
| --- | --- |
| By Matt Beer | Friday, March 19th 2010, 23:59 GMT |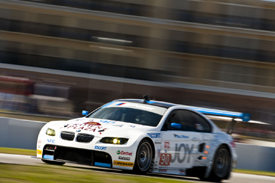 Rahal Letterman BMW has lost its GT2 class pole for the Sebring 12 Hours after its #90 entry failed a post-qualifying stall test.
The car, which Dirk Muller had placed on pole for himself and team-mates Joey Hand and Andy Priaulx, has now been put to the back of the GT2 field, with Flying Lizard's Jorg Bergmeister, Patrick Long and Marc Lieb elevated to the top spot in the division.
"We had made an aggressive tyre choice and P2 was all that we had today," said Bergmeister. "Starting from the front of the grid will help but it's certainly going to be a very tough twelve hours for all of us."
The change means that Porsche now starts with a one-two in class, with the Falken car up to second behind Flying Lizard, and ahead of Risi Ferrari and the Corvettes.
The other significant post-qualifying penalty was the demotion of JR Hildebrand, Andy Wallace and Tom Sutherland's Genoa entry to the tail of LMP Challenge field when the car was found to be below the minimum weight. Hildebrand had qualified third in the new class, just behind Green Earth Team Gunnar's Gunnar Jeanette and Level 5's Ryan Hunter-Reay.
The RSR Jaguar will also start from the back as it failed to run in the mandatory night practice on Thursday due to the major failure it suffered in the preceding afternoon session.