Gene takes Sebring pole for Peugeot
| | |
| --- | --- |
| By Matt Beer | Friday, March 19th 2010, 18:52 GMT |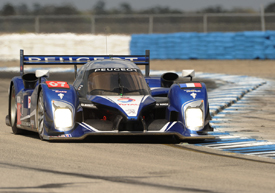 Peugeot took its anticipated front row sweep in qualifying for the Sebring 12 Hours, with Marc Gene beating team-mate Nicolas Minassian to the top spot.
The diesel-powered LMP1 squad has dominated the event from the start of unofficial testing this week, and only needed one run in qualifying to secure the top two positions, with 0.3 seconds separating its drivers.
Stefan Mucke briefly put Aston Martin Racing on provisional pole before the Peugeots got fully up to speed. He held on to third place, 0.8s from Gene's time. AMR will share row two with the Drayson Lola, swiftly repaired after Paul Drayson's practice crash in time for Emanuele Pirro to take it out in qualifying.
A little under 0.2s covered the three contenders in LMP2, but it was Highcroft that emerged narrowly in front, despite Marino Franchitti having a quick spin. Klaus Graf put the Cytosport Porsche in second, fractionally in front of the Dyson Lola-Mazda.
LMPC also saw an extremely tight contest, as the Genoa, Level 5 and Green Earth Gunnar entries repeatedly swapped class pole. Gunnar Jeanette eventually pipped Level 5's Ryan Hunter-Reay by 0.118s with his final lap, while JR Hildebrand took third for Genoa.
Rahal Letterman BMW claimed pole in the wide open GT2 battle thanks to Dirk Muller, who led a pair of Porsches. Reigning class champion Flying Lizard will start second, ahead of the Falken car - showing hugely improved form now it has moved up Porsche's pecking order.
Risi's lead entry was the top Ferrari in fourth, ahead of the two Corvettes.
Alex Job Racing dominated the GTC class, taking a one-two-three on the grid. Leh Keen was the team's star performer, securing pole by over a second.
Pos  Cl   Drivers                        Car                Time
 1.  P1   Gene/Wurz/Davidson             Peugeot            1m45.214s
 2.  P1   Lamy/Bourdais/Minassian        Peugeot            1m45.841s
 3.  P1   Mucke/Primat/Fernandez         Lola-Aston Martin  1m46.079s
 4.  P1   Drayson/Cocker/Pirro           Lola               1m46.460s
 5.  P2   Brabham/Pagenaud/Franchitti    HPD                1m47.684s
 6.  P2   Pickett/Graf/Maassen           Porsche            1m47.738s
 7.  P2   Dyson/Smith/Meyrick            Lola-Mazda         1m47.882s
 8.  P1   Willman/Burgess/Ehret          Lola               1m54.441s
 9.  PC   Zugel/Jeannette/Julian         ORECA              1m55.279s
10.  PC   Tucker/Hunter-Reay/Gue         ORECA              1m55.397s
11.  PC   Wallace/Sutherland/Hildebrand  ORECA              1m55.579s
12.  PC   Tucker/Bouchut/Wilkins         ORECA              1m56.101s
13.  PC   Pagerey/Wong/Ducote            ORECA              1m59.580s
14.  GT2  Muller/Hand/Priaulx            BMW                2m00.782s
15.  GT2  Bergmeister/Long/Lieb          Porsche            2m01.150s
16.  GT2  Sellers/Henzler/Pilet          Porsche            2m01.201s
17.  GT2  Melo/Bruni/Kaffer              Ferrari            2m01.236s
18.  GT2  Magnussen/O'Connell/Garcia     Corvette           2m01.358s
19.  GT2  Beretta/Gavin/Collard          Corvette           2m01.628s
20.  GT2  Sharp/van Overbeek/Farnbacher  Ferrari            2m01.914s
21.  GT2  Auberlen/Milner/Werner         BMW                2m01.922s
22.  GT2  Brown/Cosmo/Barbosa            Ferrari            2m02.242s
23.  GT2  Robertson/Robertson/Murry      Doran Ford         2m03.622s
24.  GT2  Gentilozzi/Goossens/Dalziel    Jaguar             2m04.804s
25.  GTC  Gonzalez/Leitzinger/Keen       Porsche            2m05.959s
26.  GT2  Krohn/Jonsson/van de Poele     Ferrari            2m06.680s
27.  GTC  Gonzalez/Diaz/Kelly            Porsche            2m07.018s
28.  GTC  Sweedler/Kapudija/Lueders      Porsche            2m07.205s
29.  GTC  Lewis/Vento/Aschenbach         Porsche            2m07.412s
30.  GTC  Curtis/Sofronas/Pilgrim        Porsche            2m07.751s
31.  GT2  Law/Neiman/Lietz               Porsche            2m07.874s
32.  GTC  Rodriguez/Bieker/Friedman      Porsche            2m10.312s
33.  GTC  Richard/Ende/Lally             Porsche            2m11.371s
34.  PC   Feinberg/Marcelli/Weickardt    ORECA