Webber confident of Red Bull reliability
| | |
| --- | --- |
| By Jonathan Noble | Friday, March 19th 2010, 09:50 GMT |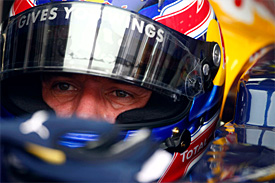 Mark Webber is confident that Red Bull Racing will get on top of reliability this year, despite seeing it lose victory in the season-opening Bahrain Grand Prix through a spark plug problem.
The Australian's team-mate Sebastian Vettel had looked to be on course for a win at Sakhir, but he slowed just past the halfway point of the race with a loss of engine power.
Although that problem has prompted fears Red Bull Racing could suffer a repeat of the niggles that cost it a lot of points last season, Webber is bullish about the progress made at its Milton Keynes-factory in producing a more solid car.
"No team out there is totally bombproof and there will be little hiccups every now and then," he told the BBC. "We've learnt a huge amount about the car in the last few months and we'll continue to do so.
"Our reliability department was brilliant last year and I have full faith in them again."
As well as being upbeat about reliability, Webber also thinks that F1 will produce much better races in 2010 than it delivered in Bahrain.
On the back of intense criticism that F1 has faced for the processional first round of the season, Webber said: "There definitely will be some more exciting races than we saw in Bahrain - which won't be hard. There was a huge build-up but the race didn't deliver on that.
"We've just come off the back of three really good seasons of racing, with Lewis Hamilton going down to the last race in 2008 to win the championship, Jenson Button's title fight last year in a season where we saw some really good overtaking."
When asked if he felt moves to push for mandatory two stops would help, Webber said: "It wouldn't hurt it. There is a lot of effort that goes into one pitstop, it's all over in under four seconds and it's pretty predictable now around when that stop will happen.
"If there are two stops that could involve a bit more tension and the potential for errors within the team as a whole will increase. Two stops will help but that may not be the solution for more overtaking on the track."