Ferrari: We can improve on Bahrain
| | |
| --- | --- |
| By Jonathan Noble | Thursday, March 18th 2010, 15:43 GMT |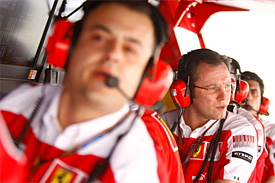 Ferrari boss Stefano Domenicali thinks his team's performance in the Bahrain Grand Prix can only be rated as an eight out of ten - despite Fernando Alonso and Felipe Massa taking a one-two finish.
Although the on-track result was perfect, and totally erased the memories of the team's troublesome start to 2009, fears about reliability and race-morning engine changes have left Domenicali in no doubt that his outfit could have done a better job.
"If we don't rate ourselves with a good result when we achieve first and second on the podium then I don't know what to say," he told the official Ferrari website when asked for how many out of 10 he would award his team's weekend.
"But considering we had some issues that we needed to solve, I can say we can rate ourselves with an eight."
Domenicali thinks the team needs to lift its game for the Australian Grand Prix, which takes place in Melbourne on March 28.
"We have just done a check of all the problems we faced in the three days we had in Bahrain," said Domenicali about the post-weekend engineering debrief.
"Of course the result in the end was very, very good - it was excellent, a first and second place in the first race. It was really an outstanding achievement, but we have seen the list of problems was quite high and we need to address them all and make sure that these are solved before the start of the next race in Australia."
Despite his quest to improve matters, Domenicali does acknowledge that the result in Bahrain was vital for morale at the Maranello factory - and has set the team up for a competitive season.
"For sure it was a very good result, a first and second place in the first race, it gave to all the people in Maranello a great relief,," he said. "It was a big emotional push I must say because we had a very difficult winter time, and don't forget what was the season last year.
"Saying that we know we have only done the first race and the season is very, very long. I would say that a good signal we have seen is that for sure the car is competitive, but it is in the field of the other competitors that want to win the championship...and we know already in the next grand prix in Melbourne the situation can be different.
"This is a different starting point though, from which we can do really good things."