Q & A with Colin Kolles
| | |
| --- | --- |
| By Jonathan Noble | Thursday, March 18th 2010, 12:18 GMT |
After taking over at the helm of the HRT F1 team, Colin Kolles delivered his promise of taking the team's cars in Bahrain.
However, it was a highly challenging weekend for the Spanish squad.
Afterwards, AUTOSPORT talked to Kolles about it.
Q. You delivered exactly what you said you would by getting two cars into the race in Bahrain...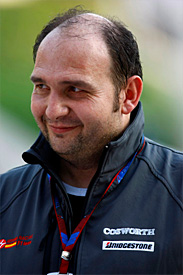 Colin Kolles: Yes, it was not bad, huh? Okay, we did our roll-out in qualifying but it is another step.
Q. There were a lot of all-nighters that you and the team had to do. Was it one of the hardest weekends you have known in F1?
CK: I think so. It was the hardest weekend I have known - and there have been many hard weekends. But, it was a very hard period because you had to make an operation, like a surgery, where you cannot miss something. You have to do it very precisely, and to arrive with all the boxes, with all the cars, at Munich airport and bring the cars here with all the equipment was very hard.
Q. How tough was your weekend then?
CK: I slept only four hours over the whole weekend until Saturday night.
Q. And the team made a pretty mammoth effort too?
CK: Yes, and nobody gave up. That is the point. We have a small army.
Q. Do you feel like just getting to the race was a bit of success?
CK: Yes, for sure. The point is that people have to realise what was the state of the team three weeks ago. You can ask Dallara, you can ask Cosworth, you can ask Xtrac, you can ask McLaren Electronics…
Q. Pace-wise the car was not too far off either…
CK: Yes, considering it was only after eight or nine laps.
Q. Did that surprise you?
CK: Our target is to be the best new team.
Q. And do you think you have the potential to do that?
CK: Yes, I think so. I brought Force India up there, and somebody else is picking up the fruits. So, I know how to do it to be honest.
Q. How tough are these first four races going to be for you simply to get through?
CK: Well, I hope that the next ones will be not so tough. Obviously F1 is a tough business and everything is tough – but I think this was a quite nice challenge. There are many other challenges to come, but this was a big challenge – to do something in a few weeks what other people had not succeeded in doing in 12 months.
Q. We came into the weekend with a lot of criticism aimed at the new teams – with some saying that they are not good enough for F1, that they could be a danger. Yet there seems to be a huge amount of support for the new outfits from the paddock. Has the drama over the new teams gone away?
CK: What drama? I know who the people were, and they should better look at themselves. I am not going to comment on this. I will concentrate on my job and then we will see. I know how to bring a team from zero to up – that is a fact. Because if I see where Jordan was five years ago, there was progress made over the whole period.
Q. What is the situation with Geoff Willis? Have you agreed a consultancy deal with him?
CK: Yes. We are working on a consultancy basis and we are working on a long-term deal. We now have a task force, and it a steady process – where you will involve additional people, where you will have your developments. It is steady. Evolutionary.
Q. The FIA is looking at reintroducing the 107 percent qualifying rule. Would you have any objections to that?
CK: No problem. We would have done it already with one car, and the other car had a rollout on Saturday.