Peugeot continues to set Sebring pace
| | |
| --- | --- |
| By Matt Beer | Thursday, March 18th 2010, 06:03 GMT |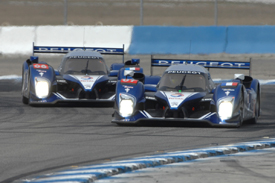 Peugeot remained fastest on the official pre-race test day for the Sebring 12 Hours on Wednesday.
The #07 car of Marc Gene, Alex Wurz and Anthony Davidson set the pace with a 1m45.811s lap, three tenths of a second ahead of the sister #08 car driven by Pedro Lamy, Sebastien Bourdais and Nicolas Minassian, with Gene and Lamy recording the best times in their respective cars.
Aston Martin sat out Wednesday's session, so Peugeot had a 2s margin over the competition, which was led by the Highcroft HPD car. Marino Franchitti's benchmark lap was 1.5s clear of the team's LMP2 rivals.
Competition was close in the new LMPC class, where half a second covered five of the six entrants. Andy Wallace was the pacesetter for Genoa.
Corvette held a one-two in GT2, with Risi Ferrari and the Falken and Flying Lizard Porsches its closest rivals as BMW chose to skip the session. Alex Job Racing's Jan-Dirk Lueders, Bill Sweedler and Romeo Kapudija were fastest in GTC, despite crashing late on.
Three practice sessions - one after dark - are scheduled for today, before final practice and qualifying on Friday.
Pos  Cl   Drivers                        Car                Time
 1.  P1   Gene/Wurz/Davidson             Peugeot            1m45.811s
 2.  P1   Lamy/Bourdais/Minassian        Peugeot            1m46.148s
 3.  P2   Brabham/Pagenaud/Franchitti    HPD                1m47.995s
 4.  P1   Drayson/Cocker/Pirro           Lola               1m48.793s
 5.  P2   Pickett/Graf/Maassen           Porsche            1m49.530s
 6.  P2   Dyson/Smith/Meyrick            Lola-Mazda         1m49.598s
 7.  P1   Willman/Burgess/Ehret          Lola               1m52.895s
 8.  PC   Wallace/Sutherland/Hildebrand  ORECA              1m57.101s
 9.  PC   Zugel/Jeannette/Julian         ORECA              1m57.254s
10.  PC   Tucker/Hunter-Reay/Gue         ORECA              1m57.347s
11.  PC   Feinberg/Marcelli              ORECA              1m57.599s
12.  PC   Tucker/Bouchut/Wilkins         ORECA              1m57.624s
13.  PC   Pagerey/Wong/Ducote            ORECA              2m01.565s
14.  GT2  Magnussen/O'Connell/Garcia     Corvette           2m01.837s
15.  GT2  Beretta/Gavin/Collard          Corvette           2m02.020s
16.  GT2  Melo/Bruni/Kaffer              Ferrari            2m02.268s
17.  GT2  Sellers/Henzler/Pilet          Porsche            2m02.369s
18.  GT2  Bergmeister/Long/Lieb          Porsche            2m02.466s
19.  GT2  Krohn/Jonsson/van de Poele     Ferrari            2m03.186s
20.  GT2  Law/Neiman/Lietz               Porsche            2m03.386s
21.  GTC  Sweedler/Kapudija/Lueders      Porsche            2m06.986s
22.  GTC  Lewis/Vento/Aschenbach         Porsche            2m07.924s
23.  GTC  Richard/Ende/Lally             Porsche            2m08.357s
24.  GTC  Curtis/Sofronas/Pilgrim        Porsche            2m08.628s
25.  GTC  Gonzalez/Diaz/Kelly            Porsche            2m09.308s
26.  GTC  Rodriguez/Bieker/Friedman      Porsche            2m12.353s
27.  GTC  Gonzalez/Leitzinger/Keen       Porsche            2m14.638s
28.  GT2  Gentilozzi/Goossens/Dalziel    Jaguar             2m29.501s
29.  GT2  Sharp/van Overbeek/Farnbacher  Ferrari
30.  GT2  Brown/Cosmo/Barbosa            Ferrari
31.  P1   Field/Field                    Lola
32.  GT2  Robertson/Robertson/Murry      Doran Ford
33.  GT2  Muller/Hand/Priaulx            BMW
34.  GT2  Auberlen/Milner/Werner         BMW
35.  P1   Mucke/Primat/Fernandez         Lola-Aston Martin