Rautenbach plans 2011 WRC return
| | |
| --- | --- |
| By David Evans | Wednesday, March 17th 2010, 10:43 GMT |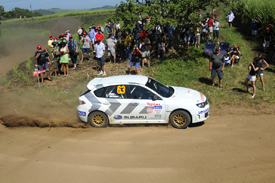 Former Citroen Junior Team driver Conrad Rautenbach will tackle this year's South African and Zimbabwe Championships in an effort to gear-up for a return to the World Rally Championship next year.
Rautenbach elected to return to his native Africa in an effort to get more seat time in a Super 2000 car in preparation for next year's WRC, which will use S2000 cars with turbocharged 1.6-litre engines.
The 2007 FIA African Rally champion will drive a Ford Fiesta S2000 on the remaining seven rounds of the South African series and all eight rounds of the 2010 Zimbabwe Rally Championship.
Rautenbach is in Cumbria this week, working with the M-Sport technicians who are finalising the build of his Fiesta. The car will fly out of London, bound for South Africa on Friday night, ahead of the Cape Town Rally next weekend.
"It's fantastic to see the car coming together," said Rautenbach. "The guys have been working through the night to get it finished for us. It would have been nice to have had a chance to test the car, but it looks like we're going to have to do a test in Cape Town - I'm still hoping to shake it down tomorrow, though."
"It absolutely remains my aim to come back to the WRC next season," he added, "and coming to Africa for a year seemed like the perfect way to spend a lot of time driving a S2000 car.
"I'm going to be doing quite a few events this year, okay, they're not all long events like world rounds, but on top of that, we'll have the chance to do a lot of testing as well - that's something I missed last year. I have a good chance to really find out about the chassis of these cars before coming back to WRC next year."
In addition to his African commitments, Rautenbach, who will be co-driven by Peter Marsh, is hoping to contest one or two WRC or IRC towards at the end of the season.
In the absence of his Fiesta S2000, Rautenbach drove Prodrive's development Group N Subaru Impreza on the opening SA round, the Tour of Natal, finishing fourth overall - comfortably ahead of any of the other conventional Group N cars.