Teams test new spoiler at Talladega
| | |
| --- | --- |
| By Diego Mejia | Wednesday, March 17th 2010, 09:31 GMT |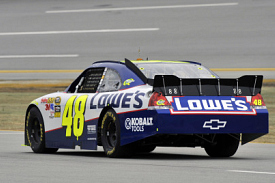 Sprint Cup teams tested the series' new rear spoiler at Talladega Superspeedway on Tuesday, while NASCAR looked at different restrictor options ahead of next month's event at the track.
Twenty-four cars, including most of the front-runners, were at the 2.66-mile superspeedway running the new spoiler for the first time at a restrictor-plate track.
Several different configurations of the device were tried throughout the afternoon as the series tries to find a compromise between drafting speeds, closing rates and drag levels.
Teams also tested different restrictor plates, starting with one-inch plus holes, then scaling back through the day as speeds proved too high early on - some cars reportedly exceeded 210mph in the draft.
Sprint Cup director John Darby said he was happy with the progress made during the day and explained the reasoning behind the trimming of the rear spoiler, as they ran with extensions on both ends of it in the morning and then tested without them in the afternoon.
"We had some suck-up speeds that were a little faster than we cared for," Darby said. "In conjunction with that, we had a lot of conversations with the drivers and it became apparent the car had too much drag.
"It was good for closing up to the guy in front if you were in the middle of the pack. But if you got shuffled to the outside, the spoiler became a parachute and sucked them backwards just as fast as they were going forwards. That typically doesn't make for a good race."
Six-time Talladega winner Jeff Gordon said there were no surprises behind the wheel running the new package, although he pointed out that the initial version of the spoiler, with the extensions, created some visibility issues while running close behind other cars.
"Nothing eye-opening, it felt like it went well," said Gordon following his first run in a five-car pack. "The cars have a little bit more turbulent air when you're behind others. It makes the car rattle and shake a little bit more, which I heard was similar to what the Nationwide cars have, so no big surprise there.
"A little bit of visual, not necessarily behind you, but when you're behind a car because the corners of the spoiler are really tall. Just seeing across those corners to the side of somebody, trying to look further ahead."
Teams will get a further chance to test the spoiler next week when they run at Charlotte Motor Speedway. The new device could be used in a race meeting for the first time at Martinsville on March 28.