Button says confidence remains intact
| | |
| --- | --- |
| By Pablo Elizalde | Tuesday, March 16th 2010, 11:55 GMT |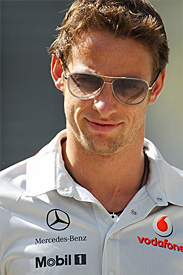 World champion Jenson Button says his confidence remains intact despite being outpaced by McLaren team-mate Lewis Hamilton at the season-opening race in Bahrain.
Hamilton qualified in fourth, four places ahead of Button, and finished on the podium while his team-mate crossed the finish line over 20 seconds behind in eighth place.
Button reckons he just needs to work with his car's balance to get it to suit his style, but denies his confidence took a hit in Bahrain.
"Not at all," he said when asked if his confidence was dented. "Lewis is an exceptional driver but most of the grid are.
"Going into any team with a driver who has been there for a while they have experience of working with that team.
"I don't believe in any way that he was quicker in qualifying because the team know the way he works and what have you. Everything is 100 per cent equal in top teams these days, which is great.
"I've just got to find something in the balance which suits my driving style more and sitting with the engineers now, they have been really listening to what I have to say and throwing ideas around. So it has been really useful."
Button did admit, however, that he needed to improve his pace in qualifying if he is to match Hamilton.
"I didn't think going into qualifying that he would go fourth and I would go eighth," he added. "I thought it would be very close. Lewis did a better job and he was quicker in qualifying. So that's an area I really want to work on with the car.
"I wasn't pleased with the car that I had in qualifying so there are areas that I really need to improve with this car."
The world champion said the team had been very encouraged by the pace of the car in race trim following a difficult qualifying.
"The good thing is the pace of the car. After qualifying the whole team was disappointed. Not necessarily the positions we were in, but more the time difference to the front row.
"But I think the race showed that we have a car better than we saw in qualifying. We know that it is one lap that we struggle with at the moment. I think maybe with a different layout it would have been a little bit better."
And Button is adamant that he can take a step forward in the next race in Australia.
"I am happy with the way the weekend has gone. I would rather have got more points but that didn't happen. I go to the next race confident that we can take a step more."