Q & A with Sebastian Vettel
| | |
| --- | --- |
| By Jonathan Noble | Monday, March 15th 2010, 17:04 GMT |
After starting from pole position and leading solidly during a big part of the Bahrain Grand Prix, Sebastian Vettel saw his dreams of victory vanish due to a problem with a spark plug.
At the end of the day, the Red Bull driver talked about his weekend.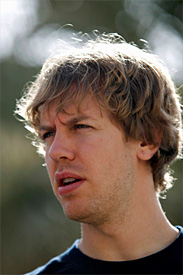 Sebastian Vettel: Well, it was a straightforward race, excellent start, excellent first stint, I think we were looking better than anyone else on the super soft, against probably people's expectations. Then we had the freedom to stop a lap later than Fernando, or the Ferraris, and obviously we lost a little bit because of that. Nevertheless I think, up to the point where we had the failure, it was looking very good, and at any time I think we were in control.
What happened I don't know yet. Either it was something mechanical - some kind of pump – or what it looks like probably more likely to be exhaust. Anyway we were lucky not to retire at some stage. In the end we still finished fourth. In the end it seemed to get slightly better again with less fuel in the car.
It was costing a lot at some stages, you could see the people passing me, they didn't have any difficulty. We just lost power. Every time I was on the throttle I just had less power. I had to try to push as hard as I could on the brakes and in cornering. Fortunately I still had reasonable tyres, I was trying to manage those, which I think was the secret to finishing fourth. But I should have won today.
Q. Was it a sudden loss of power?
SV: Yes. It was a strange noise, so I straight away reported to the team that I though it was something to do with the exhaust, just by the noise. Usually if you are unlucky and you have a broken exhaust, then it is usually game over, so it is fortunate that we could carry on. It will be interesting to find out what happened there.
Q. How did you manage to find the extra pace to keep Nico behind?
SV: I don't know if you noticed but I also tried to go left/right quickly on the straights to try to get some movement, vibrations in the car to try and fix the problem. At some stage towards the end it seemed to improve so I had more power. But every time, especially out of the low speed corners, it took a long time to clean up. Most of straights where you usually upshift to seventh I didn't have to because I just didn't have the power. In the end lap time purely came because I pushed like crazy, especially in the second sector.
Q. What do you make of the new regulations?
SV: I haven't seen much of the rest of the race. For me, I didn't mind being in the lead all the time. As far as I heard there wasn't a lot of overtaking, apart from the lapped cars, so pretty much what we expected. We has some simulations of how the race would look like and that is what we expected so... you know I think you have lost from the driver's point of you, the feeling to be able to attack every lap and really push and to be at your limits and the car's limits. Now it is more about the challenge of controlling yourself and pacing yourself for everyone. It was a one-stop race as well, I think it wasn't very exciting to watch unfortunately.
Q. Question in German.
SV: Finishing fourth was obviously crucial. The more points we could save the more important it was, but you know. It doesn't really mean a lot being in front of Nico and Michael if you could have won the race. Our target was to win today, I think we were on a very good way, in the end sometimes shit happens. Apart from that it is only positives, as I said, at any time I think we were at the top of our game, controlling the car, controlling tyres, managing the brakes. So it did look very good.
Q. Were you calculating in the car whether you could make it to fourth?
SV: Unfortunately I didn't know whether the loss of power would get worse or better, it was a bit up and down. In the end the last five laps, I just tried to push as hard as I could – especially the last two. But still I had to look after my tyres, on the straights it's not usually tough on the life of the tyres so we are usually gain most of the time easily. We lost it so we had to make it up in the corners which wasn't easy. Then I just tried to push as hard as I could.
Q. It took you a few laps to adapt to the car, did you get any advice from the pits?
SV: No, not really it wasn't me adapting. The problem was purely when I was on power so out of the low speed and along the straights. There was not much I could learn.
Q. You said you pushed harder in sector two…
SV: Yes I mean I had the last 15 laps the trouble. I couldn't start giving hell to the car with that long to go because I would struggle massively with tyres, so I had to wait and pace myself. But I lost a lot of ground.
Q. Was it exhaust?
SV: We don't know exactly but it sounded like exhaust and it looked like exhaust.
Q. Are you happy with fourth place, given the problem?
SV: Well we have a very nice trophy here, it's one of nicest in the season, I didn't miss champagne because there wasn't any but… It's important to finish, that's the secret of the season, so to finish fourth, overall is not a bad result. But I could have won.
Q. Any worries that the engine is now damaged?
SV: No I don't think so. I think engine-wise I think we should be fine, it's probably something more like a pump.
Q. From qualifying to race pace there is a difference of seven seconds, it's like a different formula.
SV: It's nice, heh? I think all the drivers will say the same, for sure you lose the ability to really fight hard. Push, against yourself, your own limits, fight against the car, for 20 laps roughly. Then give it a new set of tyres and do the same again. Now obviously starting with the very heavy car you really have to be careful. It's easy to burn your tyres, ask too much. First of all you see the loss in lap time, but secondly you have to manage and pace yourself.
Q. So if you want overtaking, it's probably a backwards step
SV: I think you saw there wasn't too much overtaking today. Now you can argue whether this is a good one for overtaking, but I think overtaking is always possible. I think if anything it got harder this year. The fact that we are running around heavier, you have to manage your tyres, and following other people in traffic doesn't really help controlling and managing your tyres.
Q. What is more the disappointment of fourth or the satisfaction of getting a result?
SV: For me there is nothing I could have done better. Sounds maybe a bit harsh, but at any time I think we had a good position and we were controlling everything. There is a lot of positive. I think we have made a huge step forward in the tyre management side. You could see in the first stint the Ferraris were struggling more than we were with tyres. That's very positive and the speed was good. The result obviously wasn't.