Q & A with Stefano Domenicali
| | |
| --- | --- |
| By Jonathan Noble | Monday, March 15th 2010, 09:45 GMT |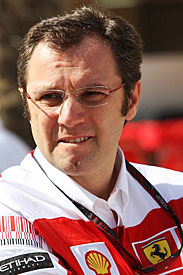 Amid the celebrations of Ferrari's first 1-2 victory since the 2008 French Grand Prix, team principal Stefano Domenicali spoke of his relief at scoring an early win in the opening round of this year's campaign during a post-race press briefing in Bahrain.
Having committed his team's resources to the development of the 2010 car early last year, Domenicali explained how Sunday's performance would silence the doubters. He also spoke about his views on the affect the new rules had had on racing, Felipe Massa's return and who he believes Ferrari's main rivals will be this year. AUTOSPORT was there to hear what he had to say.
Q. It was a very different picture from 12 months ago here. Fernando Alonso said in the FIA press conference that he was biding his time and that he could get Sebastian Vettel in the final 10 laps. Can you tell us the thinking on the pit lane of how you were managing the pace, and whether you always believed you could beat Vettel?
Stefano Domenicali: That was the plan. Considering the strategy, it was pretty clear that it was only one stop. You could not do anything more than saving the tyres and trying to attack in the later stages of the race. If we had the pace to do it or not, unfortunately, or fortunately [for us], you cannot say that - but at that stage of the race we were managing the situation. We were in a pretty good position in any case.

Q. How important is this victory from Fernando, and the second place from Felipe?
SD: Well, for sure this race is very important for the team. After a difficult season like last year, and after a very difficult decision that we had to take last year everyone was ready with the gun to fire. But that is part of the game. This is the reason why I have to take certain responsibility. It is good because it shows that the decision was right. I have to thank all the people at home who worked very hard, they were staying together, because it is easy when you have a very bad season - everyone says you have bad people and it was better in a different period. But that is life. We know that.

So the only way to react is to come back with results. In any case, what is important to see is that the car we have seen this weekend is a good base to look ahead for the future. The season is very, very long and we have to stay with our feet on the ground because I am expecting all the others to be very aggressive and very competitive. But we have seen a good car in both qualifying and racing conditions, and it proves that the work that has to be done is a lot still but we are starting from a good pace.

Q. Do you have a clear picture now on who is your main rival – Red Bull Racing or McLaren?
SD: I think that I want to respect all the others. Red Bull Racing and McLaren are all strong because now we will see who will do a different step of development, who will come with new things sooner than the others, and we need to see what is the situation with the tyres in the future in different grands prix, different configurations, different temperatures. So, I have a lot of respect for all the competitors. We have seen this weekend that everything is so close and marginal, and that during the race anything can happen. So it will be very, very long.

Q. We heard that during the race that were some concerns about the engine temperature on Felipe's car. Were there any similar concerns with Fernando's?
SD: No, because it was out of the slipstream and it was okay with the temperature. Unfortunately we suffered this problem and we had to ask to Felipe to manage the situation, and he was very, very good because he could have been much more aggressive. But for us, we always said that the priority in the first race is to make sure that we can bring the cars home, and that is the reason we managed that with Felipe – to keep a certain kind of gap between the two guys.

Q. Fernando said in the press conference that we have qualifying, the first corner of the lap and that is it – the rest of the race will then just be a procession. Is that a danger?
SD: Well, I could answer to you that if this is the danger then I would like to subscribe straightaway! But apart from that, let's wait. Let's wait. I can understand his point but let's wait and see how the other races will develop. It may be a different situation in different conditions, so I would like to tell you my opinion after a couple of races so we can at least have a different scenario that we can say, this is the real situation or not.

Q. In what area of the car do you think you need to improve?
SD: Well, if I have to say something for sure – it's that we need to make sure reliability is 100 percent in all the parts. And we don't have to suffer anything that will slow down our pace. But I think that, as far as I saw on the split time, maybe the part of the track where you need to have more stability in that type of corner was here in the second sector – so that is the area where we need to improve the car. But that is a matter of improving the car race-by-race, and this is the way we have to do.

Q. You changed both engines on race morning, but what else could you do – as on race day it was at hot as the other days?
SD: I think it was a precautionary situation that we had to take considering we were not taking any kind of penalty. This engine can be used on the Fridays of other races in different conditions. But as you know, the temperature of the engine is the result of the aerodynamics of the car so on that we have to work in order to make sure that we don't have any more of these kinds of issues for the next hot races.

Q. Is there going to be development steps in Australia, Malaysia and China, or are you going to bring several steps in one go?
SD: What is clear is that the more we are able to anticipate development, the more we are able to be faster. So I think we will see this week if we are able to bring some new parts for Australia or not.