Horner: GP a journey into the unknown
| | |
| --- | --- |
| By Jonathan Noble and Matt Beer | Sunday, March 14th 2010, 09:40 GMT |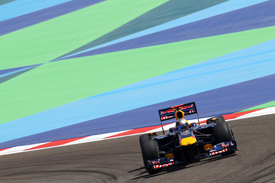 Christian Horner, boss of the pole-winning Red Bull team, believes today's Formula 1 season opener in Bahrain will be a 'fascinating journey into the unknown' - with no one in the pitlane really sure how the new rules will affect the race.
After 16 seasons of mid-race refuelling, from today drivers will carry full fuel loads from the start, putting the strategic emphasis on the timing of tyre changes, which will be particularly critical at Sakhir as many have struggled with high tyre wear in practice.
Sebastian Vettel put Red Bull on pole in yesterday's qualifying session, but Horner said despite his team's speed it is impossible to say how the race might unfold.
"I think it is a little bit of a journey into the unknown," he said. "For sure the best place to be starting is from the front, but strategies will be quite interesting as will the way the tyres behave with full tanks. It is going to be very interesting - so a fascinating race.
"You don't know what everybody else is going to do. At least when you had fuel, you knew people had to stop and by this time you already knew what their fuel weights were, and within a lap what lap they are going to stop on. Now, they can stop at any time during the race."
Horner reckons that Force India's Adrian Sutil could gain a temporary advantage today as the only man who used the harder tyres in Q3 - and therefore the only driver in the top ten allowed to start the race on the more durable.
"Theoretically Adrian Sutil should lead the race if he stays within 25 seconds of the leader," said Horner.
"Whether that is the best strategy overall we will see – but theoretically he should lead the race by going further on the prime. Where he drops out after his pitstop is impossible to predict. No one has a crystal ball."
He also denied suggestions that 2010 races will simply come down to whoever pits for fresh tyres first coming out on top.
"There is no point in effectively under-cutting a driver but then running out of tyres at the end of the race," Horner said.
"You are just as susceptible to be overtaken at that point of the race – so you have just got to look after the tyres very carefully. And you rely very heavily on the drivers' input into that."
Horner is confident that Red Bull will be able to manage its tyres successfully in the grand prix.
"We have been doing a lot of work with set-up over the winter as well, and we feel we had a good run yesterday with the tyre and don't believe our degradation is any higher than any other team," he said.
"For sure Ferrari look quite soft on their tyres, but they historically have done."