Tander runs lean to race two win
| | |
| --- | --- |
| By David Wright | Sunday, March 14th 2010, 06:42 GMT |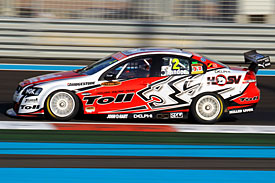 Holden Racing Team's Garth Tander gambled on fuel and won to take his second victory of the weekend in race two of the Clipsal 500 on the streets of Adelaide.
Tander pitted with 28 laps remaining in the 78 lap race but a safety car soon after for damage to the kerb at the fast Turn 8 sweeper saw him save enough fuel to gamble on running without pitting again, losing and retaking the lead from Jamie Whincup during the final stint to take the win.
Jim Beam Racing's James Courtney employed the same early pitstop strategy he used to good effect yesterday to take second position just behind Tander, with Mark Winterbottom, Shane van Gisbergen and Paul Dumbrell all just behind him, the top five finishers within five seconds of each other.
But the race took a controversial twist in the closing stages after Team Vodafone's Jamie Whincup, who had led most of the race, was hit by Courtney while defending second position on lap 70 of 78.
The contact loosened part of the rear diffuser, and despite the diffuser coming loose as a result of Courtney's contact rather than Whincup damaging the car himself, he was black-flagged on lap 71 to remove the loose bodywork.
The situation became farcical on lap 72 when the offending bodywork fell off the car, but race officials refused to withdraw the black flag, Whincup stopping in the pits to remove a piece of bodywork that was no longer there. From second place, he ended the race in 18th place.
Tony D'Alberto backed up two good qualifying performances by taking a strong seventh place just behind Rick Kelly, Steven Johnson just behind D'Alberto with Jason Richards and Michael Caruso completing the top ten.
Team Vodafone's day was a bad one all around, with Craig Lowndes involved in a couple of incidents including contact and then a spin in the closing laps on his way to 16th place, two places behind Will Davison whose day started promisingly before he was forced to queue at the first round of pitstops behind Tander and never fully recovered.
The late race drama from Whincup saw his lead in the championship slashed, now just 57 points ahead of Mark Winterbottom, with James Courtney only 18 points further back in third place.
Pos  Driver                Make                  Time
 1.  Garth Tander          Holden Commodore VE   1h58m01.9244s
 2.  James Courtney        Ford Falcon FG        +     0.9765s 
 3.  Mark Winterbottom     Ford Falcon FG        +     2.1313s 
 4.  Shane Van Gisbergen   Ford Falcon FG        +     3.3651s 
 5.  Paul Dumbrell         Ford Falcon FG        +     3.7583s 
 6.  Rick Kelly            Holden Commodore VE   +     6.1308s 
 7.  Tony D'Alberto        Holden Commodore VE   +     7.0281s 
 8.  Steven Johnson        Ford Falcon FG        +     7.7280s 
 9.  Jason Richards        Holden Commodore VE   +     8.2293s 
10.  Michael Caruso        Holden Commodore VE   +    10.0627s
11.  Lee Holdsworth        Holden Commodore VE   +    10.7834s
12.  Todd Kelly            Holden Commodore VE   +    11.5896s
13.  Steven Richards       Ford Falcon FG        +    13.9538s
14.  Will Davison          Holden Commodore VE   +    16.4055s
15.  Jonathon Webb         Ford Falcon FG        +    19.2449s
16.  Craig Lowndes         Holden Commodore VE   +    21.6054s
17.  Tim Slade             Ford Falcon FG        +    23.7804s
18.  Jamie Whincup         Holden Commodore VE   +    35.5469s
19.  Russell Ingall        Holden Commodore VE   +  1m13.0672s
20.  Karl Reindler         Holden Commodore VE   +      1 lap  
21.  Tony Ricciardello     Holden Commodore VE   +      1 lap  
22.  Dean Fiore            Ford Falcon FG        +      1 lap  
23.  Alex Davison          Ford Falcon FG        +      1 lap  
24.  Jason Bargwanna       Holden Commodore VE   +      1 lap  
25.  Daniel Gaunt          Holden Commodore VE   +      1 lap  
26.  Jason Bright          Holden Commodore VE   +      1 lap  
27.  Fabian Coulthard      Holden Commodore VE   +     16 laps 

Not classified/retirements:

     Driver                Make                  Laps
     Greg Murphy           Holden Commodore VE     2