Q & A with Martin Whitmarsh
| | |
| --- | --- |
| By Jonathan Noble | Saturday, March 13th 2010, 17:13 GMT |
Despite starting the season as one of the favourites, the McLaren team endured a disappointing qualifying on Saturday, with its drivers finishing over a second off the pace.
After the session, AUTOSPORT heard from McLaren boss Martin Whitmarsh on the reasons for its problems.
Q. How do you judge your performance so far here in Bahrain?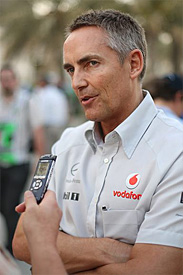 Martin Whitmarsh: Red Bull Racing and Ferrari looked very quick today. Both of our drivers did a really good job. Today we were lacking in grip and we struggled in the middle section. We didn't deal with the bump into Turn 6 as well as some, which makes it difficult into Turns 7 and 8 afterwards. So I think it was really difficult for our guys, but we weren't quick enough today. They were very quick.
Tomorrow is another day and we will see what happens in the race. We have two great racers so no one here is going to give up on a strong result tomorrow. I've been in better places here, and I've been in lot worse places here. At the start of the season we know that winning races and the championship can be tough but we think we can have a strong race tomorrow and score some points. We have to make sure that we are stronger when we get to Australia and we will keep pushing and developing as we always do.
Q. Would you rule out a victory tomorrow?
MW: No. I don't rule anything out. I think you have to say that based on the performance today, it looks tough and ambitious - but we are an ambitious team and we are going to see what happens. With a heavier fuel load we will see what happens to some of the cars – and anything can happen in the race. We have a long race ahead of us, and I think we have to make the best job we can of it. We are not ruling anything out, but we are not making any brave predictions for tomorrow.
We have got to be realistic about it. Based on the evidence today we don't look quick enough to deserve a victory here, but that doesn't mean we will stop trying to get one – but we are realistic about it as well.
Q. How much of a surprise is this result after the encouraging results you had in testing?
MW: I think we always said through testing that it is very, very difficult to see what people are doing. You've got five seconds of performance differential from full to empty tanks, and therefore you can't tell – we will start to know in qualifying. We sensed today that we didn't give the best car we could have done to our drivers, but we will see what we can do as a team.
We maybe haven't got enough downforce here, certainly for that middle section, and we've got to look at the job we are doing. I don't think there are any surprises. We always knew and were realistic about where we might be here. You come in with the ambition and the aim to win. We certainly came with that, and we will retain that ambition. We will see how we get on.
Q. Today was the first reality check, and it shows that there is more than a one second gap to the top car. What does it mean to you?
MW: I don't think it will be one second on another day or another circuit. But there is some performance there. We know the people are working hard to improve the performance of our car – and we will do so over the coming races. And racing now is between races as well as at the races themselves – we have to race to develop the car and improve it. It is not quick enough at the moment.
Q. Do you have a secret weapon to respond?
MW: I don't think we have got any secret weapons. All we can do is develop the car. That is the thing to do.
Q. Is there any area of the car where you can make a major improvement for Australia?
MW: Well again you want maximum downforce, minimum drag. I think here, clearly the middle section is really where we have struggled. We have struggled to give the drivers a car that is good through the slower speed section. Maybe here we are not running with enough downforce probably – and you sense the way we have got the car set-up is not dealing as well with the bumps through the middle part of the circuit. Australia is a very different circuit and I think we can be a bit stronger there.
Q. How much does the bump in the middle sector influence your set-up?
MW: I think with our car here, the sense I have from listening to the engineers, is that work to improve that would have been to the detriment of performance elsewhere on the circuit. So with our car, and the way we've evolved and developed the set-up, we weren't ideal through there – and the sense was that working hard to improve the situation there was going to hurt us too much on other parts of the circuit. We were hoping [the bump] was going to get ground last night, but it wasn't. So, it made it tough for the team today.