Williams duo left hoping for more
| | |
| --- | --- |
| By Pablo Elizalde | Saturday, March 13th 2010, 15:08 GMT |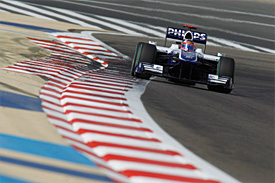 Rubens Barrichello said his Williams team was hoping for more from qualifying for the Bahrain Grand Prix after missing out on the top ten.
The Brazilian lost track time yesterday due to some car problems and had to play catch-up getting ready for qualifying.
Barrichello still managed a decent result, however, finishing in 11th position.
"I think Williams did well today, not as well as any of us would wish, but we have had some minor problems and we lost some running time yesterday," said Barrichello. "This meant we were playing catch-up this morning.
"But our general direction is good, we have a good understanding in the garage and we have real belief in the team. So we almost made it to final qualifying - I was just a little bit behind Jenson, so it was not so bad and of course I have some new tyres for tomorrow, which will be helpful."
Team-mate Nico Hulkenberg was also left wishing for a better result after winding up in 13th position.
"I had hoped to achieve more in my first qualifying session, but we didn't get the car quite perfect and I didn't manage to put the good lap together," said the German. "This combination is very costly as you would expect in Formula 1 and we didn't therefore make it into Q3.
"It is probably not worth speculating too much on the race tomorrow, the only thing I can say with certainty is that it will be tough for everyone and I believe the key thing will be managing our tyres well.