Q & A with Lewis Hamilton
| | |
| --- | --- |
| By Jonathan Noble | Friday, March 12th 2010, 13:51 GMT |
Lewis Hamilton finished today's two free practice sessions in Bahrain in sixth and second places, but admits that even he has no idea how competitive his McLaren will be in qualifying and race trim.
AUTOSPORT heard his thoughts after Friday's sessions on tyre degradation, driving with a heavy fuel load, and his expectations for the weekend ahead.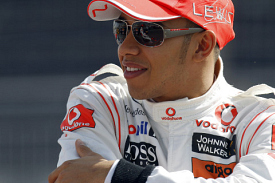 Q. On a hot track, how is it looking after today?
Lewis Hamilton: It doesn't feel too bad for the first day out. I still don't have an understanding of where everyone else is, but on the track for us it's very hot so the degradation of both compounds of the tyres is very high. On the lighter to heavier fuel loads the car feels pretty similar, but it's difficult to know where everyone is at the minute. You see the positions at the moment but it doesn't really correlate too much.
Q. Is the tyre degradation something you can handle or do you feel you will have to make more than one stop in the race?
LH: No, I think it's something you can handle. You have to change your driving style and approach to each lap. It's difficult to know what laptime to target when you do a long run on a heavier fuel load. You don't know how hard you can go and be able to push more later on. If you push less at the beginning does it mean you can push more at the end? It's difficult to know and we're still trying to understand it.
Q. Are there any parts of the track, particularly the new section, that you're enjoying?
LH: [laughs] No. I like the old circuit to be honest, it's still ok to drive the new circuit, but I've always liked this circuit. The original part of the circuit I thoroughly enjoy, I think the new part seems to be very, very bumpy and very tricky at the moment, but everybody is in the same boat.
Q. How does the car feel ahead of qualifying tomorrow? Is this a car you feel you can stick on pole?
LH: I honestly have absolutely no clue. My car feels ok, but I don't know what everyone else is doing. Some people might be heavier, some might be lighter. We might be seriously slow or we might be seriously quick, we just won't know until we go into qualifying tomorrow.
Q. What is it like to drive the car with a very heavy fuel load?
LH: It's a bit of a dog. It's very heavy, a bit like driving a bus I guess - it doesn't want to stop under braking. Through the high-speed corners it's quite well balanced with high fuel, it just doesn't stop as well.
Q. What is your idea of the difference between the softer and the harder tyres?
LH: The softer tyre is worse for me. I'm sure as the track gets better maybe that will change, but at the moment the softer tyre isn't so good for me on a long run.