Chandhok misses out on Friday running
| | |
| --- | --- |
| By Simon Strang | Friday, March 12th 2010, 12:08 GMT |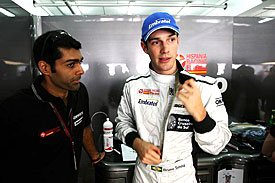 Karun Chandhok was forced to delay his Formula 1 debut until Saturday in Bahrain after the Hispania Racing Team failed to get his Dallara running in time for the second free practice session on Friday.
The 26-year-old Indian, who was confirmed alongside Bruno Senna as a driver with the former Campos outfit last week, was frustrated on the opening day of the F1 season by a problem with the clutch system fitted to the HRT's Cosworth engine.
"We've had a load of problems, obviously coming late to the programme," Chandhok told the BBC. "We can't seem to get the clutch and gearbox working the right way. I don't think we are going to get out this afternoon, which is disappointing.
"There have been about five occasions in the last 24 hours when we thought we would be okay, and then something went wrong. It's frustrating for the mechanics as well, because they have been working since last night.
"It's some sort of electronic or hydraulic issue, I don't think it's mechanical. It's not an ideal situation, but we've been a but luckier on Bruno's car which at least got out of the garage, and try and do a bit more this afternoon."
Chandhok admitted that missing all 180 minutes of Friday's testing was a big blow to his preparations as a rookie F1 driver.
The former GP2 Series winner must now install his car, settle in and find a set-up in just one hour's practice prior to qualifying on Saturday.
"Even the teams who have been in F1 for a long time, there is a lot to learn, so for a new team and a new driver you can imagine that problem multiplies," he said. "It's not an easy situation.
"We all knew coming into the weekend that it is going to be tough, but we were at least hoping to do some sort of a shakedown today. That was the plan. It is what it is.
"Medium to long term I am optimistic, but it certainly looks like the first four races are going to be character building."