Vettel: Hot weather could alter order
| | |
| --- | --- |
| By Edd Straw and Pablo Elizalde | Thursday, March 11th 2010, 16:05 GMT |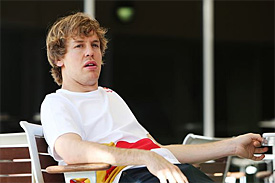 Sebastian Vettel believes the top four teams are just a few tenths off each other, but the Red Bull driver believes things could change significantly given the hot weather in Bahrain.
"You don't really know where you are, so we don't know where we are," Vettel told reporters in Bahrain.
"We think we are really up there. I think Ferrari looks extremely strong. You've got Ferrari, McLaren, Mercedes and us there or thereabout in a couple of tenths."
Last year's runner-up reckons, however, that the difference in temperature between Spain - where pre-season testing took place - and Bahrain could alter things.
"Here it could be totally different because the temperatures are way different than what we had in Barcelona," the German said.
"We'll see. Maybe on Saturday we'll find out who is strong and who is not. I don't think tomorrow we will. And on Sunday we have the big unknown.
"Everyone's starting with lots of fuel. We don't really know how the race will unfold yet. It could be exciting and crazy and everyone will enjoy it.
"But it could be very boring and the way you are after five laps it could be where you are at the chequered flag as well."
He added: "It's pretty unknown what is going to happen right now. It's not a big secret that you should put money on those four teams. But four teams means eight drivers and I think all of them are in a position to win. So we'll see."
The Red Bull driver said he had no concerns about his car's reliability despite some glitches during testing.
"I think it's no secret that stopping on the circuit is not something that you want. First of all it means a problem and second it gives the opportunity for others to take pictures.
"So yes, we had to stop a couple of times but we had nothing to fix. In testing you don't want to take the risk to continue so if you see a loss of pressure or whatever you just shut the car down and bring it back to have a closer look. I think we have no problems to survive.