Q & A with Robert Kubica
| | |
| --- | --- |
| By Jonathan Noble | Thursday, March 11th 2010, 12:36 GMT |
Robert Kubica has moved from BMW to Renault for 2010, but although he has joined a team with title-winning pedigree, he knows he's not facing an easy year.
AUTOSPORT heard Kubica's thoughts during a media gathering in the Bahrain paddock this morning.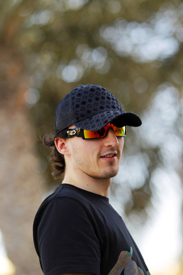 Q. A lot of pundits seemed to forget Renault when making predictions, and your team hasn't really been singled out as a threat to the frontrunners...
Robert Kubica: I think it's difficult to judge where we are and where we will be. I really have no idea where we stand. Of course we can have some ideas, and we have seen some things in the tests - for example at Jerez we were very good in my opinion, then at Barcelona not so good. So it's very difficult to see. Also you never know what stage of development the other teams are at.
I think we need to wait a couple of races to see. But of course a good start to the season will help. In winter testing I think we did achieve most of what we planned to do, so we are ready.
Q. Are you excited to start the new season?
RK: For sure. It has been quite a long break but you are always excited for the first race, especially this season as it's a bit different with a new team. Everything is pretty new for myself and we have only been able to test in February so there was a lot of work to do. What matters is that we are finally back to racing.
Q. How do you think Lewis Hamilton and Jenson Button will get on at McLaren?
RK: Okay, I think. Both are really professional drivers so I don't think they will have problems. But to be honest I'm not in that team so it's difficult for me to judge. But no problems, I think.
Q. Has Renault delivered what you expected when you signed up?
RK: Of course a few things have changed during the winter - a few things are looking different than when I signed. It's very difficult to judge if it's better or worse. It is like this, and we will try to do our best with what we have.
We will need time, we are starting from far behind looking at the end of last year - and I think most of the teams have based their cars on last year's cars or trying to follow what was the quickest car last year. So we will have to make sure that we have got a development programme and we are trying to catch up.
It's very, very difficult to judge the car's performance. From a team perspective I was very happy with what I got from Renault. The time needed to integrate and get on well with the team was short. We could straightaway get on with working on getting a feel for the car. But testing is a bit different, so for sure in the races there will be a few things that will be new and we'll have to get used to them.
Q. Are you conscious of stepping into Fernando Alonso's shoes?
RK: I don't know if I'm like Alonso for Renault. I am myself. I'm trying to do my job and that's it. Everybody in Renault knows that the time of winning the world championship is far behind. We have to be realistic and last year Renault was I think quite disappointing. So we will have to make sure that we do a better job than last year.
Q. Is it a disadvantage for the team's development programme that you have an inexperienced team-mate in Vitaly Petrov?
RK: In the end drivers can only give feedback as best as possible and give direction on development and their feelings. But they are not working on diffusers or aerodynamics. The development is happening in the workshop, the windtunnel and the design office.
Of course he is new so he has to learn, so for sure he will require time. But I think he is okay. In February he had a bit of time running in the car. He was a bit unlucky with the weather but that's how it is.