Chandhok: New team critics are unfair
| | |
| --- | --- |
| By Jonathan Noble | Wednesday, March 10th 2010, 11:38 GMT |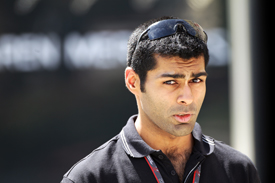 Formula 1 rookie Karun Chandhok thinks it unfair that the new teams are on the receiving end of criticism that their slow speed could cause trouble in Bahrain this weekend.
With the new Virgin Racing, Lotus and HRT outfits likely to be several seconds off the pace on their F1 debuts this weekend, a number of F1 figures - including Felipe Massa – have questioned the benefits they will bring the sport.
However, Chandhok thinks that anyone criticising the new teams for being so slow that they will cause a danger should look at the history books – which show that there have been much bigger speed differentials between the front and the back of the grid than will likely be present now.
Speaking to AUTOSPORT in Bahrain about his reaction to the comments about the speed differentials, Chandhok said: "In all honesty, I can appreciate these concerns to some extent – because if I was in their situation then I would be concerned as well. The last thing you want in Q3, on the last lap when the circuit has cleaned up, is to get someone in your way.
"But first of all I would be amazed if any of the new teams get to Q3. And secondly, at the end of the day I am quite fortunate in that I have a great respect and a great sense of history in F1 – and I remember not so long ago, just look at the early 2000s, the gap between the front and the back wasn't like it is now.
"Then if go further back, look at 1997 for example when Jacques Villeneuve was on pole [in Australia] with Heinz-Harald Frentzen was alongside him, they still had the same five or six seconds gap.
"So, all those guys [complaining] are only thinking of the last two or three years. But F1 is not about the last two years if you look back in history, which I do. Maybe they need reminding of that."
At the 1997 Australian Grand Prix, Villeneuve's pole position time was 6.603 seconds faster than the slowest man on the grid – Arrows driver Pedro Diniz.
Chandhok is under no illusions about how difficult it will be for his new HRT team in Bahrain, and thinks the outfit's season will only really get going from Barcelona onwards.
"It is going to be extremely tough. We haven't even done a shakedown - so it's no secret it is going to be a bloody tough weekend," he said. "I think if you look on the plus side, at least Dallara are a respected [racing] car manufacturer and they have built cars before, so we should be in a slightly better position than if it was with someone else doing it independently. And the people involved are good people.
"Starting on the Dallara side, there are aero guys like Ben [Agathangelou], then we have someone like Geoff Willis on board. There are good engineers as well – they are all people who have done F1 recently. So in that respect, looking at it for the medium to long term, I am optimistic that we can get better. But it is no secret that this weekend is going to be tough."