Edwards keen to end feud
| | |
| --- | --- |
| By Diego Mejia | Wednesday, March 10th 2010, 09:16 GMT |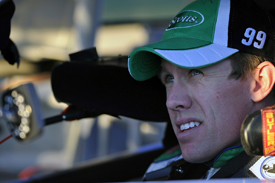 Carl Edwards says he is keen to bring an end to his feud with Brad Keselowski after the incident between the pair at Atlanta.
NASCAR announced yesterday that Edwards was being put on probation after admitting that he deliberately drove into Keselowski in the closing laps last weekend. The collision saw Keselowski's car launched into the air, although he emerged unscathed and was the latest episode in a row between the pair that stretched back to their dramatic late-race crash at Talladega in 2009.
Writing on his Facebook page, Edwards declared that he wanted to end the row with Keselowski and move on ahead of the next event at Bristol, one of NASCAR's tightest tracks and a venue where bumping between cars is frequent.
"I respect NASCAR's penalty and look forward to our meeting in Bristol," Edwards wrote. "I'm ready to put this behind us and get on with some good racing."
Edwards currently ranks 20th in the points, while Keselowski is 33rd ahead of the fifth event of the season, where the top 35 in the standings that have their start guaranteed for the next race will be reset based on the current rankings.