Interview with Mike Gascoyne
| | |
| --- | --- |
| By Jonathan Noble | Monday, March 8th 2010, 12:44 GMT |
After months of very hard work, the Lotus team will be back to racing this weekend in Bahrain, where the 2010 season kicks off.
Although it has been a race against time for the teams, tech boss Mike Gascoyne remains hopeful about Lotus's chances.
AUTOSPORT heard Gascoyne's thoughts ahead of the first race of the season.
Q. We've had the final pre-season test, and things look fairly solid. You had a few reliability issues but are you happy with where you are?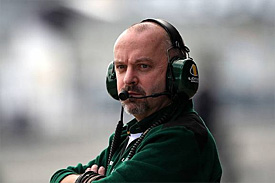 Mike Gascoyne: Nothing major, just normal stuff to be honest. Nothing that we are worried about. We have far exceeded the mileage that we thought we would do and, starting the project five months ago, the aim was to have a neat simple car that would be reliable for the first four races. It was a pretty tall order, and we've achieved it probably better than we expected we could.
Q. Pace-wise, where do you think you are?
MG: The car was a little overweight in Barcelona so we haven't really done any qualifying runs. When you look at it, each day, the lap time has been around 1m20.5s. If we had a go at it, we would have been in the 23s-high 23s. That is where we are.
Three and a half seconds off the pace - that's where we said we'd be six months ago and I think that's where we are. We always said that the first four races were about being respectable, that level of performance and being reliable.
When you look at the presentation of the team and the car and its reliability, we have done what we said we could do. It wasn't ever going to be possible to do anything other than that. Of course now, when we look at the updates with all of the people we've got on board, with wind tunnel resources, CFD coming on stream, we can push the performance, but we've got a solid base to do it from. We've done everything we've said we were going to do.
Q. Virgin Racing seems to be struggling on reliability. At this stage is the most important thing for the new teams to be reliable?
MG: With the best will in the world, none of the new teams are going to score points on merit in the first four races. The only way you are ever going to score points is to finish.
Everyone knows that in the first four races, there is always going to be a good opportunity if you finish - so that has to be the number one aim. That's how we approached it because if you put new aero bits on it, you can make it quicker. If you're not finishing you're not going to get anything. The aim was always to do the first four races and have a car that has a chance of finishing.
Q. In terms of updates and improvements, will it be minor tweaks early on?
MG: There are tweaks coming along, but our major drive is a major update around Barcelona time, depending on the results. There are a lot of things coming through so that's the sort of time scale.
Q. Operationally, you've had just two weeks on track. Is it all going well on that front?
MG: We are 100 percent where we want to be. We have got experienced guys, experienced engineers, experienced mechanics - just look at the number of laps we did at every day at the test. From that point of view, operationally, we are totally sorted.
Q. Have you paid much attention to what is going on further up the order?
MG: It is not really our problem. We are obviously concentrating on fixing our bits, and we want to make sure we are race reliable. I think it is going to be a great year – and you look at the times from the final day of the test and you can see it is going to be pretty exciting. Obviously the top four teams are very close.
How are Jarno Trulli and Heikki Kovalainen coming on?
MG: Good. I think they know what they have signed up for. They are realistic about where the pace of the car is at the moment.
I think there have been a couple of headlines that make it sound they are much more negative than they actually are. You can be realistic and say the car lacks downforce – and that flashes a headline. But if you talk to them, they are saying, 'The team is great, and the progress is amazing' so there are a lot of positives. Some of these comments get seized as headlines when they don't mean them as such, but they are actually very positive about where the team is – and impressed with being part of the team. I think they are pretty happy.
Q. And it must have been a big help for you to have two experienced guys pushing you forward?
MG: Massively – because it means you are straight on the pace. Jarno got in the car two days ago, and within four or five laps he said, 'I understand this is the problem – it's this, we need to solve that'. You then do some things and he says, 'yes, this is better, we now have a clear direction.' So it is clear straight away that he can pick it up.
Q. Does it feel slightly unreal for you that you have got it all done and dusted?
MG: It is in some ways unreal that it is all here and working – when you think back in May/June last year I was sitting in my office at home with a workforce of one. Then, here you are with a full F1 team.
So in some parts you are very satisfied that you have achieved something that is very difficult – then other parts you look at it and say, 'we are 3.5 seconds off the pace, so if I can get the boys in the wind tunnel to work a bit quicker then we could be there...'
That means part of you isn't satisfied – you need more. We've done one impossible job; we just need to do the second one. It is the old saying: the impossible I can do, miracles might take a little longer!
Q. Your aim from the start was to produce a simple car for the start of the season. With the updates coming, do you think there will be dramatic improvements in time?
MG: Yes. Normally you are chipping away and finding tenths, but now we are looking at updates that will bring us a second. You have to bear in mind that when we were finalising the design of this car, doing the crash structure and radiator inlets, it was still a month away from going in a wind tunnel. The basic radiator configuration had to be designed with no cooling figures, and no data.
People have said the bodywork at the rear is a bit chunky, and it is – because when we were deciding on cooling figures we didn't have any engine data. And when we took the route that we want to finish the first few races - we had to make sure that it cools, and does all the right things, so we had to do it like that.
Q. So you are bang on course for where you hoped to be at the start of the season – just behind the established teams but with the potential to challenge them over the course of the year?
MG: Yes, I think we are exactly there. It remains to be seen how good the established teams are – because there will be a gap to start with. But it is exactly as we said. Obviously as we get resource on it, then we are going to be able to close the gap.