Hirvonen: Solberg will rue leading
| | |
| --- | --- |
| By David Evans | Saturday, March 6th 2010, 06:46 GMT |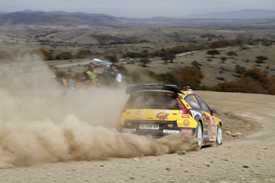 Ford driver Mikko Hirvonen says he thinks Petter Solberg's decision to lead Rally Mexico into today was the wrong one.
Having run first on the road through yesterday's opening day of the Leon-based event, Hirvonen is perfectly placed to comment on what his Citroen-driving rival will face today - and he reckons Solberg's stay in the lead will be a short one.
"I was surprised Petter was not doing anything [with tactics]," said Hirvonen. "He's not going to win the rally from that position, no way. Maybe he just wanted his time in the spotlight as leader, but if I'd been him, I would definitely have dropped back.
"He's in no position to control anything now. He's been in a really, really good road position on the first day and okay he was driving well, but now Sebastien [Loeb] is not far behind and he's third on the road, so Loeb's going to be fast."
Hirvonen said that, as bad as the loose gravel had been through the opening day, he expected it to be worse through today's stages, when Solberg will be out front.
"Okay, I can be wrong, but I seriously doubt he can win," Hirvonen added. "After the recce we thought Saturday and Sunday would be worst, it's going to be tough for him."
Solberg starts today with a 15-second advantage over Citroen Junior Team driver Sebastien Ogier, with six-time world champion Sebastien Loeb a further 12.5 seconds behind in third place. Hirvonen is 1m30s behind Solberg in sixth.