Hirvonen relieved to reach service
| | |
| --- | --- |
| By David Evans | Friday, March 5th 2010, 18:16 GMT |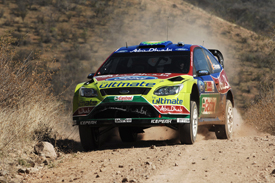 Mikko Hirvonen has admitted he is lucky to still be in Rally Mexico after a big moment on the second stage of the event.
The Finn has suffered a torrid morning, sweeping the gravelly roads clean at the head of the field, and ended it 55.2 seconds behind rally leader Petter Solberg. But Hirvonen confessed he was glad just to make it back to Leon for service.
"We had a massive moment in stage two," he said. "It was huge. We're very lucky to be here. It was in a left-hander and the car started to slide and it just kept on sliding.
"There was a concrete wall coming and I thought: 'This is it, we're going to lose the rear wheel here.' But in the end, we scratched the bumper.
"Jarmo [Lehtinen, co-driver] doesn't stop reading the notes very often, but he did this time. It was like, 'Oh f***, this is the end...' But we're here and now we have to fight back. The conditions have been much worse than I thought they would."
Hirvonen's first target is his fifth-placed Ford team-mate Jari-Matti Latvala, who is 14.9s ahead of him. Latvala's own morning had not been particularly straightforward either.
"I was much too cautious in the first stage, but I feel like I have settled down a little bit now," he said. "I've settled into the rally and feel the confidence coming now."