Red Bull not underestimating rivals
| | |
| --- | --- |
| By Jonathan Noble and Pablo Elizalde | Friday, March 5th 2010, 10:52 GMT |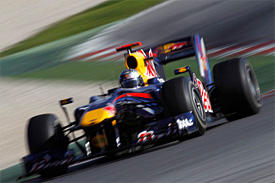 Red Bull Racing's boss Christian Horner says his team is not underestimating any rivals, despite being adamant that it is ready to take the championship this year.
Red Bull finished last season as the strongest outfit and heads to Bahrain as one of the main candidates for victory in the season opener.
Horner admits the Milton Keynes-based squad has only been focusing on its own performance rather than looking at what the opposition is doing, but he acknowledges that no rival can be underestimated, as he reckons there will be no team dominating this season.
"To be honest, we've tried our best to ignore what's going on with everyone else," Horner told AUTOSPORT. "With the fuel loads, it's just so difficult to predict what people are doing.
"We're only in control of our own destiny, we've made good steps between Abu Dhabi and now, some of which you won't see until Bahrain.
"What has impressed me more than anything is the commitment from the factory. It's been phenomenal - seven days a week has been the norm for many of our staff. What we saw last year is that it will go in waves, I don't think you're going to have one dominant team throughout the year.
"We finished the year with a great car, and we've evolved from that. Ferrari and Alonso look strong, and one thing I've learned is never to underestimate the opposition. "
Horner is convinced that, despite being a young team, Red Bull has all the ingredients to emerge as champion this season.
But he concedes the team will not get obsessed with the title, and will focus on doing the best job in each race.
"We just need to take one race at a time, try to maximise everything we have and the championship will take care of itself," Horner added. "I think you can get too focused on the championship. We just want to get the most we can out of every weekend.
"Do we have the tools to do the job? Yes I do. Mark's in great shape, we're very fortunate that we have a good balance of youth and experience. They work together very well and they push each other on."
The Red Bull boss also believes managing the tyres well will be crucial to achieving success now that refuelling is banned.
"The key thing is understanding of the tyre. It's important for us. Parity of engine power is important because you can't run with your shoelaces tied together effectively. That's something the FIA are acutely aware of.
"Reliability will be key, consistency is going to be vital. All these aspects contribute to a championship."