Hamilton admits 'mishandling' Alonso
| | |
| --- | --- |
| By Matt Beer | Thursday, March 4th 2010, 16:56 GMT |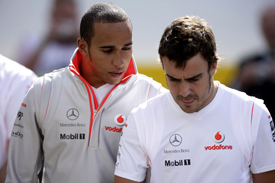 Lewis Hamilton feels in retrospect that he could have managed his relationship with Fernando Alonso better when they were team-mates at McLaren in 2007.
But the Briton remains adamant that he has never enjoyed any special treatment from his team, and that McLaren did its utmost to give both its drivers equal support.
Hamilton and Alonso's partnership famously collapsed in rancour as the 2007 season progressed, and the Spaniard parted company with McLaren to return to Renault at the end of the year.
Although Hamilton now admits that he 'misunderstood' the situation within the team, he remains sceptical about Alonso's inference that McLaren prioritised Hamilton because of its long relationship with him.
"At the beginning of my first year I was up alongside the two-time world champion and he was seen as the guy to win the world championship and I think at the time I misinterpreted and misunderstood the goals and the understanding of how the team worked," Hamilton told the BBC.
"But since I've been here they do everything to give us individually the best package possible. I've never had more than the guy next to me, we've always had equal opportunity, which is the greatest thing in a team.
"It's not easy to manage that, because one guy can be ahead of the other.
"Inevitably people say things sometimes when they haven't done so well. You say things out of anger; you say things that you potentially don't mean. That's how I see it from the others."
Hamilton reiterated his confidence that there will be no problems between him and new team-mate Jenson Button at McLaren this season.
"It's different," said Hamilton. "We've learnt from experiences. We understand each other very well."