Force India to nurture di Resta potential
| | |
| --- | --- |
| By Jonathan Noble and Pablo Elizalde | Wednesday, March 3rd 2010, 11:01 GMT |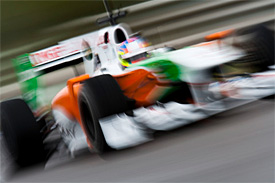 Force India says it wants to nurture Paul di Resta's potential as a Formula 1 driver by giving him track time during Fridays ahead of races this season.
The Scot has been signed as Force India's reserve, and he will replace racing drivers Tonio Liuzzi and Adrian Sutil in the opening practice sessions at selected grands prix.
With in-season testing banned, Force India's CEO Otmar Szafnauer believes replacing the racing drivers is the only way to allow di Resta to grow.
But Szafnauer is convinced it will not cause any problems with the racing drivers.
"The presence of di Resta is mainly because we see potential in Paul for the future," Szafnauer told AUTOSPORT. "He is still a young man and it's difficult to nurture that potential without in-season testing, so how do you do it? And one way to do it is to run him on Fridays.
"It could have the unintended consequence of pushing the race drivers a bit. Fine, nothing wrong with that. Back when most teams had third drivers, it didn't cause any difficulties to the racing drivers in the teams. Zero whatsoever.
"But it did give the racing drivers something to look at and say "Oh look how quick he was" and talk to him and ask 'how did you do it, blah, blah blah". Often he was quickest because he had new tyres and low fuel, but there are times when they can learn from that too.
"So I don't think it will cause any discontent, but it is another input, and mainly is to give Paul some seat time. And how else could you do it?"
Szafnauer admitted the plan to run di Resta on Fridays could change depending on circumstances, and the American said the Scot was unlikely to drive at new circuits like Korea.
"That's changeable with the circumstances," he said. "Say you are in a battle for whatever place in the championship, and both racing drivers say 'Look, we need all the time in the car', and that's what you do.
"The plan, as it stands today, is he will do one of the Friday sessions and then we swap, so Tonio loses one on a Friday and then Adrian loses one on another."
The Force India CEO also acknowledged that both Liuzzi and Sutil will need to raise their game this season, but Szafnauer is convinced they are capable of doing it.
"I think they both need to improve over last year," Szafnauer said. "I think they'll recognise that too, and I think they are capable of it. Tonio needs more seat time. He's had towards the end of last year and now in testing, and I think he's done a great job in testing. I think the indicators are that that will happen.
"And Adrian, with years and experience he will understand when to take opportunities, when to shut the door so that his finishing record becomes a bit higher. I think those are the two areas for the drivers, but they are at the point of their career when I think that will happen It's not far fetched, for both things.
"Tonio should do it given more seat time and Adrian is now in his fourth or fifth year, so it's time. They are both capable."