Q & A with Lucas di Grassi
| | |
| --- | --- |
| By Jonathan Noble | Tuesday, March 2nd 2010, 13:41 GMT |
Despite a difficult pre-season for the Virgin Racing team, Lucas di Grassi has been encouraged with the progress made and believes the British squad has a solid base to work with during the year.
AUTOSPORT talked to the Brazilian driver ahead of the first race of the year.
Q. You've made a bit of progress over the weekend and seem to have turned a corner on reliability...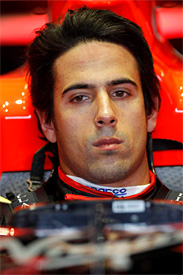 Lucas di Grassi: Yes, definitely. From day one we improved a lot as expected on reliability and also on performance. We found a lot of useful information during these days, although I was expecting to do a little more mileage than I actually did as before my debut grand prix I wanted to do more than 12 or 1300 kilometres.
I'm very confident that the car will do well. I have to say thanks for the whole team; they have been working so well and improved as a team. Now, after this test, I can really see everyone on this team pushing 100%, they are working as a complete group now so I am very confident for Bahrain.
Q. How tough is that weekend going to be in terms of getting to the end of the race?
LdG: That is our main priorty, of course to finish the race. Then, with a good performance. We will be able to do so and I'm not worried at all. This will come as a result of our work, especially during these days at Barcelona. Performance in Bahrain will be a different issue; Bahrain is a track that consumes a lot of brakes, the set-up is very different from here so we have no data to predict how it is going to be. It's going to be difficult for us, but the team is up to it, that is for sure.
Q. Do you feel you have got the platform that you wanted to start the season with?
LdG: Now we have a good baseline, we know the areas that we have to improve on the car, we know that we have to improve in many different technical parts of the car. We didn't have so much time to do so because the car has been done in six months and the other teams have been doing them for 40 years!
So our steps will be greater in the beginning of the season, then it gets more difficult as you get closer to the other teams. Since the first time I drove the car, I felt it was a good baseline and now that the reliability problems are fixed we are OK for Bahrain.
Q. Pace-wise are you where you expected to be compared to the established teams?
LdG: For sure, yes. I think we haven't run as fast as we can at the moment. We have a lot of potential to go on. I had to work a lot on different aspects and different performance parts of the car. We are not as advanced as other teams in terms of simulating qualifying and race runs. We did a lot of set-up work, performance work, reliability checks so I think we learned a lot and we have a lot more potential to show than we have shown here in Barcelona.
Q. Have you done enough testing?
LdG: In terms of mileage, it's never enough. If you think you are at the best of your form, I think it's not the right way of thinking about it. I definitely have a baseline to go to Bahrain and do a job but I'm sure I have more potential to explore and I can improve during the season with more experience driving with different fuel loads, driving with different tyre compounds.
So I don't think I've done enough mileage compare to what the other drivers have on their backs. For sure, I will try to be in the car every time possible and use every single second in the car to improve as a driver. I also have a good team-mate who has done a good job in the past, so he is a great person to work with with.
Q. What is something really valuable that you have taken out of these days testing?
LdG: Everything is valuable, even when you have a car that is not 100% optimal at its performance level because you are not going to have the car at its best every time during a grand prix. Even the bad aspects of testing, some reliability problems, you can learn from. T
hat's my approach. I'm just trying to improve every single time I'm in the garage, in the car, driving or just watching other cars on track. That's my approach and that's the fastest way to improve as a driver. This is how I am going to take it in Bahrain.