Di Grassi: Virgin is making progress
| | |
| --- | --- |
| By Jonathan Noble | Tuesday, March 2nd 2010, 13:38 GMT |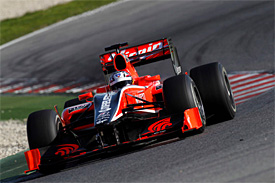 Lucas di Grassi is confident that his Virgin Racing team is heading to the season-opening Bahrain Grand Prix with a solid baseline to work from - even though it is still lacking ultimate pace.
The VR-01 has had a troubled baptism in testing, suffering from poor reliability and ending last week's Barcelona test more than five seconds off the pace-setting McLaren of Lewis Hamilton.
Despite the hurdles that the team faces, di Grassi believes the team has made progress and can head to Bahrain hopeful of making more progress.
"From day one we improved a lot as expected on reliability and also on performance," di Grassi told AUTOSPORT.
"We found a lot of useful information during these days, although I was expecting to do a little more mileage than I actually did, as before my debut grand prix I wanted to do more than 12 or 1300 kilometres.
"I'm very confident that the car will do well. I have to say thanks for the whole team; they have been working so well and improved as a team. Now, after this test, I can really see everyone on this team pushing 100%, they are working as a complete group now so I am very confident for Bahrain."
Although Virgin Racing struggled with niggling reliability problems throughout the Barcelona test, improvements planned before the first race should help it show better once the racing starts.
"Our main priority, of course [is] to finish the race," continued di Grassi. "Then, with a good performance. We will be able to do so and I'm not worried at all. This will come as a result of our work, especially during these days at Barcelona.
"Performance in Bahrain will be a different issue; Bahrain is a track that consumes a lot of brakes, the setup is very different from here so we have no data to predict how it is going to be. It's going to be difficult for us, but the team is up to it, that is for sure."