Q & A with Nico Rosberg
| | |
| --- | --- |
| By Jonathan Noble | Saturday, February 27th 2010, 16:46 GMT |
Nico Rosberg set the pace in today's Barcelona test - while his Mercedes team-mate Michael Schumacher revised his prediction after last night's slightly pessimistic forecast and said he now reckons the team will be in good shape for Bahrain.
After the session Rosberg spoke to the press - including AUTOSPORT - to share his thoughts on Mercedes' prospects.
Q. How was progress today?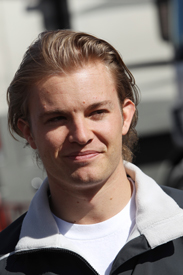 Nico Rosberg: I think today was a positive day for us - we got a lot of running in, learned a lot of things. We started off the morning with less fuel in the car, just doing pure set-up comparisons to try and nail the set-up a little bit better, because I think there is still a better set-up that we need to find for the car, but we definitely made progress this morning. There were some directions that I really liked and felt good, so we really improved in that respect.
Then after lunch we did long runs with a lot of fuel - a race simulation - which was also good from my point of view because we really got through the whole thing, learned a lot of things, and it was interesting because there were some other guys out at the same time with similar fuel levels, although they were with different tyres at certain points so it was very difficult to compare.
The big problem was graining because the rain at lunchtime made the track a little bit worse so there was more graining that we were fighting with, especially when you are with a lot of fuel you tend to destroy the tyres. Everybody had the same problems, and that makes it really interesting out there.
Q. Where do you still have to improve? Is it with heavy fuel?
NR: I think in general there's no absolute weakness with the car at the moment. We just need to nail the set-up a little bit better to really extract the maximum potential from the car, which I think we're not quite doing yet. We're close and maybe tomorrow we can make another step in the right direction.
Then it's just, I think, down to aero. We have some upgrades here, but the big package is coming for Bahrain - and it's going to be a big package. But I'm sure everybody else has similar big steps, and then we just have to see where we are.
Q. What's it really like working with Michael Schumacher now that you've been working together for a while?
NR: I think it's been really good in general. Working with him has been going very well. It's all very smooth and open, which is very nice. I've been feeling very comfortable in general, which has been good. And obviously with all his experience it's great that we can be pushing together in terms of set-up and things like that. I think it's very good for developing the car, and he can also bring a lot of things with his experience of car development. So I think we can expect a lot of progress in the very near future.
Q. Every driver is always compared to their team-mate, so is your goal to end the season as top Mercedes driver?
NR: Well one has to be a bit careful with that because I'm up against one of the best of all time. But of course your benchmark is the team-mate, so I'll measure myself against him - and it's going to be a great challenge this year to have such a strong team-mate.
And eventually that will help me extract more from myself, because you can always pick up little things from your team-mate and that will make you go faster, which is again going to be good for the team. I'll just wait and see - if I'm ahead, then fantastic, if I'm behind then I'll just have to work harder.
Q. Michael said today he was feeling less pessimistic than he had yesterday. Would you say you're feeling optimistic? Is this a top three car?
NR: It's still early days so I'm very optimistic at the moment. That's my attitude and how I'm pushing forward, and I think today has been a good day for us.
To repeat, it's difficult to say where you are at the moment, but I feel very confident in the car, very comfortable, which is a nice feeling for myself - I can really attack and it feels good to drive. So I think it's a good base that we can build upon.