Whincup still unbeatable in Bahrain
| | |
| --- | --- |
| By David Wright | Saturday, February 27th 2010, 16:11 GMT |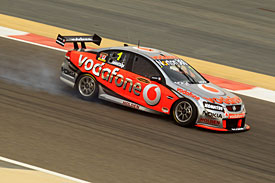 Jamie Whincup continued his perfect start to the season with victory in race two of the Desert 400 at the Bahrain International Circuit.
It came despite Whincup making a poor start and dropping to fifth place, but by lap eight he was back in the lead. However, Whincup wasn't able to escape from Mark Winterbottom's clutches until the closing laps of the race to take the win by five seconds.
Winterbottom was once again Whincup's closest challenger, leading the first seven laps of the race before being passed by Whincup, then shadowing him through the first two stints of the race before fading at the end.
Third for Shane van Gisbergen came as somewhat of a surprise after qualifying 14th, but a good start moved him up to tenth, and gaining good ground through the first round of pitstops to move up to fourth, taking third from Lee Holdsworth on lap 26 just after their second pitstop.
Rick Kelly had a similar race, moving up from 11th on the grid to finish fourth, just behind van Gisbergen, despite having to conserve fuel in the final couple of laps. Holdsworth's fall down the order stopped at fifth but it was nearly sixth, beating Holden Racing Team's Will Davison by just three-tenths of a second at the finish.
James Courtney and Jason Richards were next, while Michael Caruso and Paul Dumbrell made huge charges through the order from 16th and 24th respectively to complete the top ten finishers in ninth and tenth place.
A poor start for Craig Lowndes, like team-mate Whincup, dropped him to 14th place, and had climbed up to eighth place going into the second round of pitstops. But from there, he faded, ending the race in 12th place.
Garth Tander's horror start to the season continued, firstly involved in an incident with Jason Bright at turn one on lap one, dropping Tander to 27th. A good recovery saw him running in 16th with less than two laps, before contact between himself and Steven Richards broke Tander's steering and ended his race.
Whincup extended his leads in the championship with a perfect score of 600 points, 57 points clear of Winterbottom, with Shane van Gisbergen moving up to third place, 129 points off the championship lead, moving ahead of Whincup's team-mate Craig Lowndes in fourth on 447 points.
Pos  Driver                Make                  Time
 1.  Jamie Whincup         Holden Commodore VE   1h21m06.4169s
 2.  Mark Winterbottom     Ford Falcon FG        +     4.8504s
 3.  Shane Van Gisbergen   Ford Falcon FG        +    17.1255s
 4.  Rick Kelly            Holden Commodore VE   +    18.5252s
 5.  Lee Holdsworth        Holden Commodore VE   +    25.0023s
 6.  Will Davison          Holden Commodore VE   +    25.2889s
 7.  James Courtney        Ford Falcon FG        +    30.3643s
 8.  Jason Richards        Holden Commodore VE   +    34.5274s
 9.  Michael Caruso        Holden Commodore VE   +    34.7634s
10.  Paul Dumbrell         Ford Falcon FG        +    35.3577s
11.  Steven Johnson        Ford Falcon FG        +    39.2430s
12.  Craig Lowndes         Holden Commodore VE   +    45.4278s
13.  Russell Ingall        Holden Commodore VE   +    47.1186s
14.  Jason Bargwanna       Holden Commodore VE   +    50.7500s
15.  Steven Richards       Ford Falcon FG        +    51.5111s
16.  Jonathon Webb         Ford Falcon FG        +  1m05.6520s
17.  Alex Davison          Ford Falcon FG        +  1m06.0693s
18.  Tim Slade             Ford Falcon FG        +  1m06.5309s
19.  Tony D'Alberto        Holden Commodore VE   +  1m32.8759s
20.  Dean Fiore            Ford Falcon FG        +  1m36.7815s
21.  Tony Ricciardello     Holden Commodore VE   +  2m08.1733s
22.  Greg Murphy           Holden Commodore VE   +      1 lap
23.  Daniel Gaunt          Holden Commodore VE   +      1 lap
24.  Jason Bright          Holden Commodore VE   +      5 laps

Not classified/retirements:

     Driver                Make                  Laps
     Garth Tander          Holden Commodore VE    36
     Fabian Coulthard      Holden Commodore VE    28
     Karl Reindler         Holden Commodore VE    27
     Andrew Thompson       Holden Commodore VE    22
     Todd Kelly            Holden Commodore VE     1